---
VGK has launched a large-scale project to modernise the seaport of Shakhtersk. The project provides for the construction of an automated port with a high-performance loading infrastructure. During a working trip to the Uglegorsk District, the Governor of the Sakhalin Region Valery Limarenko studied a project to modernise the largest offshore coal terminal on the islands.
"The port of Shakhtersk is one of the ten in Russia in terms of dry cargo transhipment volumes. This is the most important enterprise not only for the region, but for the entire region. The port employs about 500 people, most of them are residents of the Uglegorsk region. Students of the mining technical school undergo practical training at the enterprise. With the development of the port, new jobs will appear, and employees will acquire new qualifications. In addition, exports will expand, tax revenues to the regional budget will increase," said Valery Limarenko.
The 'heart' of the port will be a fully automated coal warehouse with a storage capacity of up to 3 million t. Another innovation is the modern warehouse equipment – three stacker-reclaimers. The capacity of each piece of equipment will be 4000 tph when working as a stacker, and 4500 tph when working as a reclaimer.
Following the Solntsevsky coal mine, the coal seaport of Shakhtersk will also face a digital transformation of production processes. As a result of the introduction of digital services in the port, it will become possible to intelligently manage a warehouse, a fully automated shipment cycle with a multifactor efficiency control system, a routing system for loading shuttles and optimised capacity allocation to achieve optimal time indicators for ship loading, thermal monitoring, a predictive control system for the operability of nodes, MRO, etc.
"In favour of the environment, we are abandoning mechanisation and moving to a green conveyor system. This measure is aimed at reducing harmful emissions into the atmosphere and improving the ecology of the Uglegorsk region. New conveyor lines in the port, each of which is more than 7 km long, will completely replace diesel-fuelled equipment. To reduce the load on the environment, we envisage the installation of a covered transport conveyor system and a dust suppression system in the process of forming stacks using mobile units," added Anatoly Balakin, Executive Director of the Shakhtersk coal seaport.
After the glavgosexpertiza was carried out, the company received a positive conclusion and a building permit. The site has already started construction and installation work on the planning of the territory. In May 2021, work will begin on the construction of foundations for stacker-reclaimers and conveyor lines. The work is planned to be fully completed in 3Q22. The volume of investments in the project will amount to RUB 8 billion.
Read the article online at: https://www.worldcoal.com/coal/02042021/shakhtersk-coal-seaport-awaits-large-scale-modernisation/
You might also like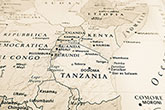 Edenville Energy Plc has provided an update on its Rukwa Coal Project in Tanzania.