---
New Hope has reported a second trial at the mine's washplant to explore a new coal processing technique.
The trial will investigate the viability of the FLSmidth Reflux Classifier™, a new device for processing fine coal, which could provide leading edge technology to the washplant.
New Acland's Washplant Manager, Robert Rashleigh, said the technology was only installed at 40 sites worldwide.
"This particular unit is starting to gain momentum in the industry so we're pretty excited to bring it to New Acland," Robert said. "A more efficient wash means more product coal and that's something we really like the sound of."
"We're currently laying the groundwork for the trial and should be kicking off the pilot program from June."
New Hope Group's Principal Process Engineer Michael Rodgers commented: "The mining industry has processed coal by density for decades but the Reflux Classifier gives the process a more precise separation."
"The heavier reject material discharges from the bottom of the unit, and the low density clean coal is sent out the top, giving you a lower ash product."
"New Acland is always looking for ways to continually improve our operations and even though it's early days, this pilot programme could deliver real benefit to our washplant."
The Reflux Classifier pilot is running concurrently with another washplant trial testing a dry sorting technology.
Read the article online at: https://www.worldcoal.com/coal/01062017/second-trial-at-new-acland-mine/
You might also like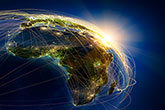 Contango Holdings Plc has advised that the production of washed coking coal has commenced at its flagship Lubu Coking Coal Project in Zimbabwe.