---
Jade Gas Holdings has appointed Chris Jamieson as Managing Director, in addition to his existing role as CEO. Jamieson holds a Bachelor of Commerce from the University of Adelaide, along with several post-graduate qualifications including a CPA, graduate diploma of Applied Finance and Investment (FINSIA) and diploma of Investor Relations (AIRA). Jamieson has over 25 years' experience in the resources and corporate finance industries having previously held senior roles with ASX Listed Beach Energy Ltd, Normandy Mining Ltd and Ernst & Young.
Jamieson is the current CEO of Jade, having been appointed to the role effective 16 December 2021, after providing consulting services to the company since October 2021. Within this role, Chris has overseen the delivery of four of the six wells to be drilled at Jade's flagship TTCBM Gas Project in the South Gobi Basin, Mongolia which aims to support Mongolia's energy Independence and cleaner energy mix. As well as this, Jade has expanded its CBM portfolio by securing two highly prospective Mongolian CBM permits, Shivee Gobi and Eastern Gobi, spanning just over 18 000 km2.
Jade Executive Director, Joseph Burke, said: "Chris has had a noticeable impact on the company in the four months since being appointed as CEO. His experience and skill set in both oil and gas and corporate finance have proven valuable attributes in executing well beyond the strategic objectives set out in our prospectus, which includes the addition of two highly prospective CBM permits which is expected to add significant value for our shareholders. Chris' appointment as Managing Director adds further day-to-day oversight to the company's decision-making process by providing balance between the Executive and Non-Executive members of our Board."
In addition to the terms of the existing CEO employment agreement released to the market on 16 November 2021, the company has issued 12 million unlisted options exercisable at AUS$0.09 on or before 19 April 2025 to Jamieson under the terms of the appointment agreement. 6 million of the options will vest on the 12-month anniversary of the commencement date as Managing Director, with the remaining 6 million options vesting on the 24-month anniversary of the same commencement date.
Read the article online at: https://www.worldcoal.com/cbm/02052022/jade-gas-appoints-managing-director/
You might also like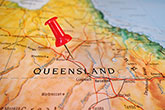 CIMIC Group's minerals processing company, Sedgman, has secured an operations and maintenance contract in the Bowen Basin, Queensland, from Pembroke Resources.