---
Jonathan Rowland.
As Barry Tudor tells it, Pembroke Resources is a different type of coal company: a metallurgical coal company that doesn't yet own any metallurgical coal assets – although it is on the market. Instead it's based around a team. And it's that team that is the asset.
"Pembroke was something that I formed with a bunch of people I worked with before – all who had worked in coal and had a track record of developing coal projects," Tudor told me when we met on the fringe of the Coaltrans World Coal Leaders Forum in Barcelona. "Most of us had worked together on Gloucester Coal, which was a boutique-type coal mine that we took from a market cap of AUS$80 million to a market cap of AUS$2 billion through organic growth and various mergers and acquisitions."
It was that team that attracted the attention of private equity firm, Denham Capital – a different type of private equity company. "The difference with Denham is they invest in a team, which has a track record of delivering and then that team goes out and finds an asset," Tudor explained.
So what makes metallurgical coal an attractive asset given that prices are at multi-year lows on the back of weaker-than-expected demand and strong supply? It's a question Tudor is well-used to answering – not just from journalists but also at investor roadshows where there's often no appreciation of the different between metallurgical and thermal coal.
"I think first of all it's more rare. So there's only a limited amount of metallurgical coal in the world of good quality. Secondly it's higher value for sale. Thirdly it's not at the moment sold as a commodity; it's a branded product. Fourthly, there's often direct contact between producer and the end user – so there's a relationship built up on that brand."
But perhaps the key point – and the starkest difference between metallurgical coal and thermal coal – is that there is really no alternative for metallurgical coal in the steelmaking process.
"I do say sometimes that the only thing [metallurgical and thermal coal] share is that they're black," Tudor said. "It's not quite that way; it's a bit of an exaggeration. But you know when going roadshows in equity markets, there's no appreciation of the difference. Whereas there is a fundamental difference. And I guess the main thing is that there's no substitute for coke […] In the steelmaking process: it's a necessity."
Backed by Denham Capital's money, Pembroke is currently looking for assets – although Tudor was relaxed on the timing of any potential deal: "There's been no rush. It takes a little bit of time before things start to shake out."
"What you would have found a year ago [is] a lot of assets by number out there but a lot of them were pretty poor. A lot of them were assets where people had got on the coal bandwagon and well – you could see the quality of the assets by how quickly some of them were dumped," Tudor explained. "We're not interested in these types of assets. We're interested in good quality, A-grade assets."
"So the market's perfect for us because as its softened, more opportunities have come up and we can take our time and analyse and make a move."
With cash in the bank, rather than sunk in an asset, Pembroke is one company, then, where the coal market downturn is actually working out in its favour. "Right now as a buyer – and we don't like to rub it in too much – we're happy if it bumps along […] It's a good time not to have an asset and just to have cash."
And while Tudor hopes for an upturn, he's not betting on it: when it comes to buying assets, the deal has to make sense even if the market stays the way it is now. "We think there's still opportunities where we can add value. It could be greenfield; it could be brownfield. It could be producing. It doesn't matter. We just need to be able to – as a team – apply our expertise and add value."
About the author: Jonathan Rowland is the Editor of World Coal.
Read the article online at: https://www.worldcoal.com/special-reports/31122015/ceo-interview-barry-tudor-pembroke-resources-3345/
You might also like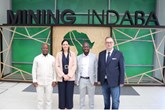 Continuing a spate of new global enrolments, the World Coal Association (WCA) has welcomed South African mining investor, Menar, to its roster of progressive coal members.