---
Jay Jenkins and Jane Phillips, Ventyx, Australia.
The mining industry today is being impacted by forces from myriad directions. Ever rising production costs, fluctuating commodity prices and tighter regulatory regimes remain trends that continue to effect the future of mining around the globe but are now coupled with a market that has subtly shifted from supply driven to demand.
In the face of so many challenges, which ones do mining companies find the most critical; and how are they planning to survive in the short term, while maximising shareholder growth longer term, in such a demanding environment? These are the insights sought from questions posed in the recent Ventyx 2014 Global Mining Industry Survey.
Ventyx worked with business research and consulting firm Geddes Analytics over the summer to pose these questions to nearly 250 executives and managers with some of the major mining companies around the world. The survey follows similar projects conducted by Ventyx in 2011 and 2012. As a result, we also assessed how the mining industry had evolved over recent years – as well as how miners are managing changes.
The survey results indicated that market and regulatory demands, as well as fluctuating commodity prices, are focusing miners' priorities toward enhancing production efficiencies. Remaining high are workforce safety and capital projects with scarcity of capital contributing to greater budgetary scrutiny and shareholder's expecting quicker returns. However, nearly 80% of mining executives and managers surveyed selected "optimising/maximising production" as either very urgent or extremely urgent, making it the top challenge for miners in 2014. "Ensuring equipment operates reliably and predictably" – a challenge closely linked with optimising production – also increased in importance as a key challenge for miners this year.
With this renewed focus on optimising reliability and production efficiency, how do miners plan to achieve these goals without compromising the safety of the workforce? Judging from the top challenges listed by respondents, mining companies are in need of a combination of technologies in order to enable the following capabilities:
Optimising operational performance: Approximately 91% of respondents named increasing costs as the top driver for performance optimisation. Increasingly remote operations and declining grades round out the top drivers. 56% of those surveyed see improved communications in the minesite as an effective use of technology for achieving operational performance improvement. Half of respondents also named integrating information technology (IT) and operational technology (OT), to provide greater visibility of operations, as key to achieving this success.
Maintaining and empowering a skilled, mobile workforce: Miners are focused on making effective use of mobile technology and implementing a well-developed remote mining strategy to ensure workers are safe and informed. This may be because more than a third of the mining companies surveyed still rely on human intelligence to optimise their value chain. Survey results showed more than a third of respondents already have mobile solutions in place that can alleviate some short-term safety challenges, but the long-term focus on safety will continue to drive investments in mobility, automation and initiatives, such as remote mining.
Maximising asset performance: Approximately two-thirds of operations management and corporate executives – as well as 92% of asset management executives – identified the need to make smarter decisions based upon real-time production and equipment data as a primary objective for their move toward greater automation. Around half of the respondents also named monitoring asset health as a key objective. Unfortunately for many respondents, the lack of integration between production, equipment and control systems remains a major obstacle shaping their asset management strategy.
Across the board, a major challenge for mining companies to reach their goals is a lack of integration between IT and OT systems. A growing number of mining companies see the single leading benefit of IT/OT data integration as optimising for cost and efficiency. This directly addresses the challenges of:
Increasing costs, ranked first or second as an obstacle by 91%.
Energy cost and efficiency, cited by 68% as a top force affecting priorities and operations.
Optimising or maximising production, cited by 78% as extremely/very urgent.
Unfortunately, however, more than half of survey respondents represent companies with little or no data integration across the value chain. They report their companies are still operating with siloed data throughout the organisation. Furthermore, 32% rely on spreadsheets combined with human expertise for crucial decision support.
There is hope, however. Survey results show that about one third of companies have taken steps to implement IT/OT data integration. These companies have a consolidated view of production systems, and the most advanced companies can dynamically view and adjust operations across the value chain.
Summary
So, what do these survey results tell us about the future of the global mining industry?
First of all, it is only a snapshot of the current state of the market, but it is an encouraging one. The industry is slowly but increasingly embracing technologies that will help mining companies meet their most urgent challenges, deliver predictability and improve safety while increasing shareholder return.
Secondly, the results demonstrate that miners understand that information technology and operational technology cannot operate in silos if they are to be the main enablers to achieve these goals. The best solution is an integrated combination of these technologies that provides remote asset diagnostics, continuous automation and production optimisation.
As miners increasingly turn to integrated IT/OT solutions to achieve their goals, the future look bright.
Written by Jay Jenkins and Jane Phillips. Edited by Jonathan Rowland.
About the authors: Jay Jenkins is the director of product management for Ventyx mining solutions. Jane Phillips is the industry solutions executive in mining for Ventyx.
Read the article online at: https://www.worldcoal.com/special-reports/29012015/driving-change-in-the-mining-industry-abb-ventyx-coal/
You might also like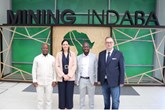 Continuing a spate of new global enrolments, the World Coal Association (WCA) has welcomed South African mining investor, Menar, to its roster of progressive coal members.