Li Wang, CRU.
Chinese metallurgical coal prices have undergone a continuous deterioration, exhibiting a 29% y/y decline in 2014. As a result, CRU estimates that around 44% of metallurgical coal output is currently loss-making. However, up to year-end, no obvious pull back in production had been observed.
Government supportive measures have not changed market fundamentals
Given the high level of employment and significant proportion of production in the hands of state-owned enterprises (i.e. 62% of coal supply), the Chinese coal sector receives a great deal of attention from the central government. As a result, since August 2014, the State Council has held 17 regular meetings, attended by the relevant ministries and commissions, with the specific intention of developing potential solutions to the current difficulties being experienced in the coal sector. It is worth noting that the intense release of multiple measures at the central government level over the last few months is unprecedented and is indicative both of the extremely tough conditions being experienced by the coal sector and the government's detemination to improve the situation. The published measures that relevant to metallurgical coal, set out below, have been categorised to show the influence each.
Production control has never been easy for a country that is home to a large number of coal miners and where provincial governments have different priorities from those of the central government. Also, the task has become harder with most of the large miners heavily in debt and each now selfishly focused on their own concerns. Although the government has intentions to restrict imports and support exports, their actions, so far, have had little impact on the oversupply of metallurgical coal in China. The imposition of an import tax has not impacted the largest seaborne supplier. The metallurgical coal imports from Australia is exempted from the 3% import tax, wheras, Australia has potential for further supply additions. Equally, the reduction in the export tax is not sufficiently large to facilitate metallurgical coal exports. Even the resource tax reform has only had a moderate impact on mining costs, although the effect differs in each production province, as explained below.
Recently, the coal production provinces released individual, reformed resource tax rates ranging between 2 - 9% of the coal selling price, as shown in the table below. The main metallurgical coal production provinces, Shanxi, Sha'anxi, Inner Mongolia and Guizhou adopted comparable, high resource tax rates, at 8%, 6%, 9% and 5% respectively, while others have determined lower tax rate at just 2%. Basically, the reform of the resource tax has lead to an increased tax burden for coal miners overall,; however, as local governments have removed other funds and fees, the overall rise or decline in costs that coal miners have been exposed to is within 3% of the average realised selling price during 2014.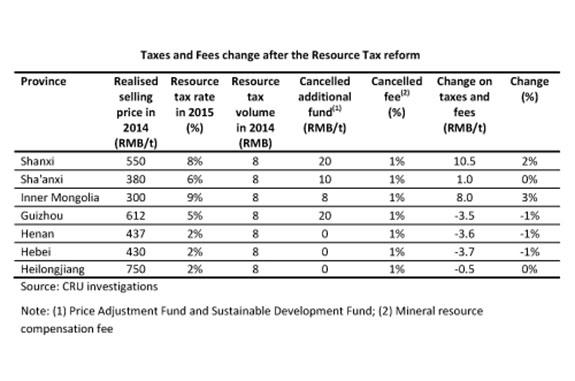 Further reforms make Shanxi more competitive on metallurgical coal
By the end of 2014, Shanxi had also discontinued activities at all coal inspection stations in the province that not only removed the additional charges associated with coal inspections, but also improved road transport efficiency. In addition, Shanxi cancelled fees for coal sold outside the province. These two actions brought about another US$5/t reduction in costs for coals sold outside of Shanxi. That is, although site costs in Shanxi increased as a result of the changes to the resource tax and fees, business costs have declined.
Having said this, it is clear that the Shanxi government intends to improve the competitiveness of local coals and encourage local miners to gain more market share in Chinese market.
In addition, the commissioning of the Central South Railway, also called Wari railway on 13 January 2015 will further enhance the competitiveness of Shanxi's cmetallurgical coal in the Central Chinese provinces of Henan, Anhui and Shandong. This railway connects Shanxi and Rizhao port at Shandong and is designed primarily for the transportation of metallurgical coal. It has a total capacity at 200 million tpy. This railway will enable transportation cost cut to be US$ 5-6/t. Although 2015 will be a ramp up period and some stations along the line are still under construction, CRU believes that more Shanxi coking coal will be transported out of the province along this line. Once all the stations and stock yard are commissioned, the prospected shipment to other provinces will be enhanced still further.
Downside risks for China's coking coal prices exist for 2015
Looking to 2015, competition amongst the different coal producing provinces is likely to create weak domestic market conditions. The declined business cost for Shanxi's coking coal may cause some downward revision for coking coal prices in nearbouing provinces, such like Hebei, Henan and Shandong.
It is worth noting that the reduction of additional fees in Shanxi particularly may actually benefit the smaller, private mines that were previously charged higher fees compared with the large state-owned enterprises. This could encourage more output from these mines, in which case the possible benefit of the fee reduction would be an increase in market share for Shanxi miners within China as well, but with potential downside risks for price.
The central government will continue to support the Chinese coal industry and, as part of its efforts, may urge further production restrictions. However, in our view, coal output could quickly rally if higher coal prices emerge. Thus, without a strong demand, the coal miners will continue to suffer untill more closures or reduction on production are seen in the market.
It appears that the weak conditions in the Chinese domestic market will dampen the effects of what, we believe, will be better fundamentals in the seaborne market outside of China in 2015. From the perspective of a seaborne coal exporter, the supportive actions by the Chinese government are preventing a meaningful price recovery.
For more information on CRU's suite of coal strategic forecasting and cost analysis services, or to speak to CRU's analysts about our market views, please contact Sameer Virani.
Written by Li Wang. Edited by Jonathan Rowland.
About the author: Li Wang is a Consultant - Steel Raw Materials at CRU in Bejing.
Read the article online at: https://www.worldcoal.com/special-reports/18022015/chinese-coking-coal-sector-outlook-1914/