Special reports - 14 November 2016
GlobalData has released its global coal cost curves.
In World Coal November, Rohit Vedhara, Aum Energy, Singapore, and Gary Love, Verso Energy, Australia, explain the company's advancements in microbial coal conversion.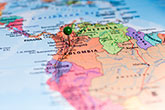 Amy Gibbs, JLT Mining, examined how political activism is undermining Colombian coal in World Coal's latest issue.