---
Jonathan Rowland reflects on the closure of the Kellingley and Thoresby coal mines and what this means for the future of coal mining in the UK.
The announcement that the Kellingley and Thoresby underground coal mines will close by Autumn 2015 is a devastating blow to the UK coal industry, resulting in the loss of 1300 jobs and leaving only one underground mine – Hatfield – still operating. It also raises concerns over the UK's reliance on imported energy sources.
A vital resource
Despite the bad press endured by the coal industry in the UK, it still provides over a third of the country's electricity. According to UK government figures, coal's share of the energy mix totalled 36.3% – down from almost 40% in 2012 but still the largest single source of electricity in the UK – despite a punitive carbon tax that is pushing many of the country's remaining coal-fired power plants towards early retirement.
Indeed, the UK coal industry currently finds itself wedged between a rock and hard place: low international coal prices have hit domestic produces hard and driven the recent mine closures, but the high carbon taxes mean that the UK power industry is unable to take advantage of these low coal prices. As Tony Lodge of the Centre for Policy Studies recently pointed out in a column for The Yorkshire Post, the country is thus faced with the prospect of losing its coal capacity altogether, threatening an energy crisis and soaring energy bills.1
Not good for energy security…
The loss of an indigenous energy source should also be a worry for policymakers. Much is being made of the crisis in Crimea and its impact on Russian gas imports to Europe. But Russia is also the largest supplier of coal to the UK. In 2013, Russian coal imports stood at just over 20 million t, up from 18 million t the year before. In comparison, the US provided 12.2 million t; Colombia, 11.5 million t; and Australia 2.1 million t. In total coal imports rose by 10% in 2013 compared to 2012.
Meanwhile, domestic production totalled just 12.8 million t in 2013 – the lowest figure on record and 25% down on 2012. Behind that figure lies an even steeper drop in underground coal production, down by over a third on the back of the closure last year of the Daw Mill coal mine following a mine fire and difficult geological conditions at remaining mines.
"Today's announcement to close [Kellingley and Thoresby] comes at a time when many question the general wisdom of reducing the country's ability to source its own energy needs in the face of geopolitical uncertainty surrounding energy security," said Dr Fred Dahlmann of the Warwick Business School. "Strongly declining rates of natural gas production from the North Sea, coupled with European concerns over energy import dependency on Russia, suggest that the UK should do more to improve the production of its indigenous energy sources."
Lodge was more blunt: "To abandon coal would be an almighty folly and fundamentally weaken energy security today and for future generations."
The UK's move away from coal should also be set against a wider global trend to promote domestic energy production. The US shale gas revolution is a case-in-point here and the UK government hopes to follow that lead – although there is still heavy resistance from residents in areas where drilling is planned and doubts whether shale gas production would ever hit the highs seen in the US.
In contrast, coal is the country's largest energy resource and can be produced now. If the government is serious about energy security, it should also be serious about ensuring the UK's ability to mine its own coal survives. Its commitment to support the "managed closure" of Kellingley and Thoresby is hardly promising in this regard – nor was the statement from the business minister, Michael Fallon, that there was "no value-for-money case for a level of investment that would keep the deep mines open beyond [the] wind-down period to Autumn 2013". It seems the mines' best bet for survival now lies in a white-knight investor from the private sector.
… but good for the environment?
Environmental campaigners will be cheered by the news. Yet here again there should be pause for thought. As mentioned above, the government is heavily promoting shale gas as an alternative domestic energy source and one that is far cleaner than the coal. But while it is true that natural gas is cleaner at point of combustion, when emissions of greenhouse gases along the supply chain are included, it is far from clear that shale gas has any environmental advantage over coal. As Drs Johannes Lambertz, Hans-Wilhelm Schiffer and Thomas Thielemann noted in a 2012 article for World Coal: "if the upstream chain and methane are included, the climate relevance of the various fossil energy sources converges. The differences become smaller, especially with a period under review of 20 years, or if shale gas […] is taken into account."2
Add in clean coal technologies and the equation changes again. The news that SaskPower's 100 MW Boundary Dam power plant will soon be operating with carbon capture and storage could be the breakthrough that technology needs. "This model should be repeated in Yorkshire when the new White Rose clean coal plant is constructed near Drax," said Lodge: "This new technology provides the UK with a great opportunity. If it is rolled out at a scale when its costs will fall, then existing and possibly new coal mining projects can be developed in the knowledge that the market for coal will remain strong."
This point was picked up in a statement by the Trade Unions Congress, which has been heavily critical of the UK government's failure to support continued operations at Kellingley and Thoresby: "Coal production has a future with CCS, but only if ministers are prepared to give the industry a fighting chance. Unions will continue to make the case for coal – a UK energy supply that is secure, cheap and one which means our energy bills are less susceptible to price fluctuations in the international energy market."
Conclusion: not just a mine closure
The closure of the two mines is a tragedy for the 1300 miners that work there. Despite government assurances that it would deploy a "rapid response service" to help miners find new work, many fear the worst: "I'm 53 year old with 35 years of mining [experience]", one miner told the BBC. "Where do I go? I'm going to be chasing jobs against lads who are 16 to 20. Who are they going to pick?"
But the pain will not be limited to those miners soon to be left without a job. Energy prices are rising in the UK with more and more households feeling the pinch. Politicians are beginning to take notice – particularly with a general election due next year. But none have yet mentioned the role that coal could play in alleviating energy poverty. They remain happy to let the UK coal industry slowly expire. It is to be hoped that this will change: the question is whether it will change before the industry is too far gone to revive.
Reference
1. LODGE, T., 'Face to face with the fact that we need coal power', The Yorkshire Post (4 April 2014): http://www.yorkshirepost.co.uk/news/debate/columnists/tony-lodge-face-to-face-with-the-fact-that-we-need-coal-power-1-6541673
2. LAMBERTZ, J., SCHIFFER, H-W. and THIELEMANN, T., 'Leaving footprints', World Coal (February 2012), pp. 81 – 84.
Written by Jonathan Rowland
Read the article online at: https://www.worldcoal.com/special-reports/11042014/the_closure_of_kellingley_and_thoresby_coal_mines_is_a_blow_to_uk_coal_coal717/
You might also like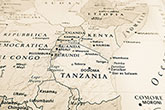 Edenville Energy Plc has provided an update on its Rukwa Coal Project in Tanzania.