Australian coal sector eyes green shoots
---
Anthony Fensom
A price rally in early 2016 has given Australia's coal industry a much-needed boost after a wave of bad headlines over asset sales, job cuts and mine closures. While no one is celebrating yet, a belief that the worst may be over has sparked a revival in deal making, amid signs that the major miners' divestments have opened up opportunities for smaller players.
China's moves to stimulate production helped drive metallurgical coal prices 27% higher by the end of April compared to the start of the year, relieving the pressure on Australian coal producers and revenue-hungry governments.
According to Vivek Dhar, Commodity Analyst at CBA, the rebound in China's "old economy" industrial sectors should further support seaborne prices in 2016. Dhar expects premium metallurgical coal prices to average US$87.50/t (FOB Australia) in 2H16, "alleviating financial pressures for a number of coking coal producers."
Meanwhile, the modest decline in the price accepted by Australian thermal coal exporters with their Japanese buyers in the annual negotiations was also viewed as positive for the sector. April's settlement of US$61.60/t was down only 9.1% on the previous year's price, a result Macquarie Wealth Management analysts described as "staggering".
"This is obviously a massive coup for Glencore and other producers selling on [Japanese financial year] terms," Macquarie said, having predicted an even more modest US$58/t settlement price. The price agreed between Glencore and Japan's Tohoku Electric Power was about US$10.80/t higher than the spot price, making it the largest premium to the spot price in some 15 yrs.
Although a long way from the peak prices of US$300/t for metallurgical coal and US$120/t for thermal coal set during the China boom, the revival has sparked predictions that the worst may be over for the beleaguered sector.
In a 11 March report, ANZ Research said commodity markets "are showing signs that the worst may be over. Slightly better fundamentals have seen investors reduce the probability of downside risks, which has elicited a wave of short covering. Sentiment has also picked up, with a glass half full approach being taken to weaker than expected economic data."
BBS Capital Markets Coal Analyst Mark Levin agreed, citing the "significant" amount of Chinese coal expected to leave the market. In a bid to curb overcapacity, Beijing said it would cut around 500 million t of coal production over the next three to five years, close more than 5000 mines and relocate around a million workers, as well as suspending development of any new coal mines for the next three years.
Michael Ryan, Director at coal infrastructure consultancy Balance Advisory, said the turnaround in sentiment had been noticeable. "M&A activity has increased significantly since earlier this year, particularly the number of parties who are looking at various coal assets. We've seen a lot of private equity interest from both Asia and North America," he said.
"When do you call the bottom? I guess it's when you see a real increase in prices, and it's got to be sustainable. But certainly the price rise will encourage M&A transactions to be completed sooner rather than later, and obviously if the Australian dollar stays low, you'll see an uptick in activity across the board."
Industry shakeout
Moves by major miners such as Anglo American, Peabody Energy, Rio Tinto and Vale to sell Australian coal assets have sparked a shake-up in the industry, with the emergence of a number of newer players backed by private equity.
Among recent sales in the states of New South Wales (NSW) and Queensland were Stanmore Coal's noteworthy AUS$1 acquisition of the Isaac Plains mine in Queensland from Sumitomo and Vale; Rio Tinto's sale of its Bengalla mine in NSW to New Hope for AUS$865 million; and a number of other transactions of undisclosed value or which had yet to be finalised to otherwise new investors, such as Sydney-based Taurus Funds Management and Indonesia's Salim Group.Stanmore Coal Managing Director Nick Jorss said his company had looked at more than 50 opportunities in the past few years before doing its "fantastic" deal in the Bowen Basin to acquire Isaac Plains and the adjacent Isaac Plains East.
"We kissed a lot of frogs to find the right assets…The deal put together two adjacent assets, which gave us all the infrastructure of an existing mine with a significant, low-cost mine life extension to 10 yrs," he said.
On 6 April, the Brisbane-based company announced its first metallurgical coal production at Isaac Plains, with its annual output contracted to Japanese and South Korean steel mills.
Jorss said his company had made the mine profitable by slashing production costs by 35%, cutting production from the previous 2.8 million tpy to 1.1 million tpy and benefitting from established infrastructure. Yet while Stanmore Coal's deal has proved successful, some seven of nine other recent mine 'sales' had yet to reach settlement as of April 2016.
"I expect there will be more deals closed – you're certainly seeing a lot of assets on the market at the moment. Anglo has publicly said they're selling and there are a number of others looking to exit," Jorss said.
Jorss pointed to the 150 jobs generated by Isaac Plains' restart as part of the benefits of the new investment.
According to the Queensland Resources Council (QRC), the state's resource sector has shed 23 000 jobs in two years, with falling investment threatening the livelihoods of the industry's remaining 60 000 workers.
Exploration expenditure nationwide fell by 37% to AUS$213 million in the calendar year 2015, although production is expected to have risen by 4% to 260 million t due to increased output at existing operations and the start of new mines, including Whitehaven Coal's Maules Creek, according to the Australian government's forecaster, the Department of Industry, Innovation and Science.
"Given the current market, growth isn't at the top of many coal operators' priority lists at the moment. However, the recent grant of a mining lease to Adani's Carmichael project was the first mining lease granted for the next great Queensland mining province, the Galilee Basin, opening the door for thousands of jobs across regional Queensland," QRC Chief Executive Michael Roche said.
Environmental and legal battles
After injecting an estimated AUS$26 billion into the NSW and Queensland state economies in fiscal 2015, along with AUS$2.7 billion into state coffers, the industry's growth prospects have been constrained by increased environmental and legal challenges.
Despite winning Queensland government approval on 3 April, the AUS$21.7 billion Carmichael thermal coal mine and rail project in the state's emerging Galilee Basin has been hamstrung by a six-year-long legal process that shows no sign of concluding. On 27 April, conservationists launched the eighth legal challenge to the project, arguing that its approval "ignored climate change totally."
The legal battle is estimated to have cost the Indian giant an estimated AUS$120 million, sparking calls for an urgent review of the environmental approvals process.
Commenting on news of another legal appeal against the project on 13 April, QRC Acting Chief Executive Greg Lane said: "The announcement of another appeal lodged by an Indigenous group adds yet another delay to the vital job-generating project that regional Queenslanders are relying on after the massive downturn in the resources sector.
"Even the Minister for Natural Resources and Mines, Dr Anthony Lynham has said, 'everyone deserves their day in court, but not four years in court,' and even he conceded after the Adani decision that the project was likely to face further legal hurdles."
Meanwhile in NSW, development of the Caroona and Watermark thermal coal projects on the Liverpool Plains has stalled amid environmental challenges and falling prices, despite an estimated AUS$1 billion worth of investment by BHP Billiton and China Shenhua, respectively over the past decade.
The re-emergence of coal workers' pneumoconiosis (Black Lung) more than 30 yrs following its apparent eradication in Australia has also put the spotlight on the industry's health and safety record, adding to the pressure from activists seeking to curb coal-fired power in favour of renewable energy.
Defending the coal industry's environmental policy, the QRC's Roche said: "Coal does not run away from the fact that use of coal generates carbon emissions. However, technology exists to address these emissions, allowing continued use of coal in a low-emissions future. High-efficiency, low-emissions (HELE) technologies – involving use of higher temperature and pressure steam conditions – could reduce global CO2 emissions from electricity generation by as much as 40%. These technologies are available and being deployed now in countries such as Japan, China, Korea and India.
"Complementing HELE technologies are the carbon capture and storage (CCS) technologies involving capturing CO2 emissions from power station flue gas and storing them, safely and securely, deep underground. There are 15 large-scale CCS projects currently operating around the world and a further seven under construction. CO2 capture technologies are being developed by global equipment suppliers and will be commercially available when required. In Australia, the priority is to develop geological storage opportunities."
Brighter outlook
In its March 2016 quarterly report, Australia's industry department predicted a brighter future ahead for the nation's resource and energy sector, with total exports expected to reach AUS$208 billion by fiscal 2021 compared to AUS$160 billion in fiscal 2016.
Although metallurgical coal prices are seen falling to an average of US$83/t in 2016, down 19% on the previous year, the department said prices would start rising from 2018 by around 1% a year to average US$80/t in 2021. This reflected increased demand from emerging economies, such as India, which is expected to overtake Japan as the world's largest importer within two years.
Australia's exports of metallurgical coal are expected to grow by an average 1.6% a year to reach 200 million t by 2021, growing the nation's share of world trade at the expense of declining North American production.
Australia is also projected to become the world's largest thermal coal exporter "over the medium term" as lower prices, increased domestic usage and infrastructure constraints limit output from rival suppliers. The industry department forecasts Australian thermal coal exports will "increase marginally" to 216 million t by fiscal 2021, with earnings of around AUS$14 billion.
Benchmark thermal coal prices are also expected to increase in line with growing demand from India and Southeast Asia, offsetting falling demand from China and the OECD. The department said the annual contract price would decline from US$59/t in the Japanese fiscal year 2016 to around US$54 in 2018, before recovering slightly to US$56/t in 2021.
The QRC's Roche was bullish on the outlook, saying: "While consumption of thermal coal is expected to decline in Europe, North America and perhaps China, that will be more than offset by increased demand for coal in the rest of Asia and in Africa. There are around 370 GW of new coal-fired generation capacity under construction or approved in non-OECD countries, which is almost equal to the investment across all technologies in the OECD."
Roche concluded with a positive outlook for Queensland's metallurgical coal sector: "Exports are forecast to increase over the medium term, supported primarily by an increase in imports from emerging economies, such as India, together with continuing strong demand from traditional customers, such as Japan, Korea and Taiwan."
Stanmore Coal's Jorss agreed with the positive outlook for metallurgical coal, saying recent price rises reflected the supply-demand situation drawing closer to a balance. "Coking coal is essentially a scarce resource, which is being depleted at a rate of knots, around a billion tonnes a year coming out of the ground to make steel. When the supply-demand situation switches, there will be a shortage of projects and the lead times are getting longer and longer with regulatory constraints," he said."The seeds of the next upswing are being sown as we speak."
About the author
Based in Brisbane, Anthony Fensom covers the Australian and Asian coal industries for World Coal.
To read this issue and much more, register to receive a copy here.
Read the article online at: https://www.worldcoal.com/special-reports/10062016/australian-coal-sector-eyes-green-shoots-943/
You might also like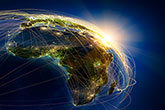 Contango Holdings Plc has advised that the production of washed coking coal has commenced at its flagship Lubu Coking Coal Project in Zimbabwe.