---
Anthony Fensom, Australia Correspondent, World Coal.
China's moves to reduce coal consumption are yet to be copied by Taiwan. The world's fifth-biggest coal importer imported approximately 52 million t of thermal coal in 2014, mostly from Australia and Indonesia, generating around 40% of the island's electricity. This compares to 30% for natural gas and 18% for nuclear, with the government facing public pressure to abandon any nuclear expansion.
In 2015, Japan, South Korea and Taiwan are expected to import a combined 324 million t of thermal coal, helping offset any decline in Chinese imports along with a rise in Indian imports.
Taiwan's three operating nuclear plants are slated for decommissioning from 2019 and, with public protests against the construction of a fourth plant, coal, natural gas and renewables are set to remain the dominant sources of power supply.
According to the International Energy Agency (IEA), seaborne thermal coal imports to Taiwan will increase by 2.5% per year on average through to 2019, while Japan and South Korea will post annual rises in thermal coal imports of 0.7% and 2.4%, respectively. For metallurgical coal, projected annual rises through to 2019 for Japan, South Korea and Taiwan amount to 1.8%, 1.5% and 1.3%, respectively.
Written by Anthony Fensom. Edited by Jonathan Rowland. This article first appeared as part of a report on East Asian coal demand in World Coal Asia 2015.
Read the article online at: https://www.worldcoal.com/special-reports/10062015/taiwan-no-china-copier-coal2399/
You might also like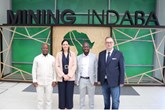 Continuing a spate of new global enrolments, the World Coal Association (WCA) has welcomed South African mining investor, Menar, to its roster of progressive coal members.