Jonny, Sultoon, Wood Mackenzie.
China's coal market dwarfs any other region. Last year, it produced 47% of total global output, or 3.3 billion tonnes (Bt), of thermal coal. It also imported 207 million t to supplement consumption with consistent quality at a lower cost. Although that figure is barely 6% of Chinese consumption, it represents 17% of the contestable Chinese coastal market and 22% of all global trade in thermal coal.
Indeed, Chinese imports grew rapidly from being a net exporter in 2007/08 to adding an average 37 million tpa to its imports base in each subsequent year through 2013. Increasingly, global traders and producers are geared towards China, greatly influencing both the pricing levels and the pricing mechanism for thermal coal.
But those imports fell slightly in 2014 as did Chinese thermal coal demand.
Is demand peaking?
Not necessarily. Consumption growth barely registered in 2014 but that was due to a complex amalgamation of factors, such as a shift in economic growth and energy consumption patterns, high penetration of non-coal fired capacity (such as hydro and nuclear), weakening load growth due to mild weather, and a slowdown and relocation of energy-intensive industries.
For coastal provinces specifically, the shift has also been more sudden and difficult to pre-empt. It's driven by stringent environmental compliance and public opposition to air pollution, which has forced the new leadership into concerted action.
Sentiment in the market has also been transformed by the roll-out of ultra-low emissions targets across many coastal provinces and strict reductions in coal usage. Meanwhile, coal quality standards for non-power sectors in heavy urban and industrialised regions have improved.
We don't believe coal demand is peaking in China as a whole. For evidence, look no further than China's Go West strategy, which sees many energy-intensive and power-generating industries relocating from coastal provinces to the interior where costs are lower and growth patterns more robust. However, for coastal provinces, it's a different story.
What then for imports?
For imports, even the threat that coastal Chinese coal demand is peaking presents a key risk. Imports do not generally penetrate towards interior provinces, making domestic coal more competitive and well entrenched. Peaking of coastal demand, combined with greater availability of domestic supply – thanks to rail expansion and a raft of domestic protectionist edicts – means seaborne imports are set to fall 16% (-33 Mt) in 2015.
What is meant by protectionism?
Given where prices have fallen to in China, at least 50% of Chinese thermal coal is losing margin. The sector, with many inefficient and high-cost mines, is struggling with massive overcapacity and mine consolidation. Globally, 20% of mines are cash-negative. So to offset the more competitive seaborne market, domestic miners would welcome any form of support from Beijing.
The response has been positive, with a handful of policies and edicts, ranging from strict quality standards on coal imports to new rules cutting Chinese generators' level of imports by 40 to 50 Mt. Year-to-date imports are already 23% less than the previous six-month rolling average – despite a strong price that favours imports over domestic supply.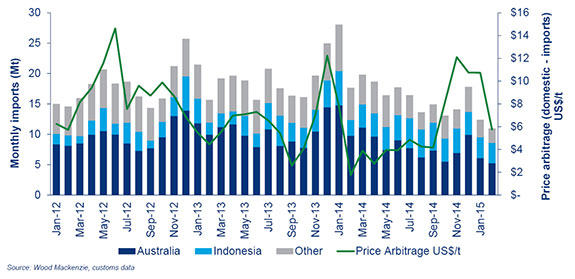 What impact will this have on the global market?
Global prices have continued to fall in 2015 in response to declining cost trends and demand weakness in China. Prompt spot prices are trailing in the high US$50/t range, as reported by price exchange globalCOAL. The anticipated volume loss in China is unlikely to be absorbed by other buyers this year, either in volume or quality type. So producers face a tough choice: work doubly hard to rationalise supply – something they have been reluctant to commit to – or accept that prices simply won't recover this year.
Exchange rate depreciation and falling diesel prices have given relief to some miners – notably in Australia and Russia – but at current spot prices, the global cost curve will still be cash-negative for many into 2016. Ultimately, miners may not be able to do much to arrest price declines until overcapacity within China gets absorbed more fully.
To find out more about Wood Mackenzie's integrated coal research product suite, please click here.
Edited by Jonathan Rowland. 
About the author: Jonny Sultoon has 14 years experience analysing energy markets, including coal, gas, LNG and power. He currently directs analysis for global coal markets, both thermal and metallurgical. His areas of expertise are in short and long-term demand forecasting for the international coal markets, competition between multi-fuels in the power generation sector, corporate analyses of the major producers and utilities, and fundamentals-based price forecasting for the coal market.
Read the article online at: https://www.worldcoal.com/special-reports/02072015/its-all-about-china-2508/