---
Harleigh Hobbs
The Humber Estuary is home to some of the UK's major ports, including the Port of Hull, the Port of Goole, the Port of Grimsby and the Port of Immingham. They form the UK's biggest trading gateway and the fourth largest port complex in Europe.
The Port of Immingham, owned and operated by Associated British Ports (ABP), is located along the south bank of the Humber. Set on an estuary with naturally deep water channels with easy access to major trade routes, Immingham is ideally located for the easy distribution of many types of cargo. It is the UK's largest port in terms of tonnage, handling approximately 50 million tpy of freight – 20 million tpy of this is dry bulk.
The estuary's naturally deep waters made it a perfect location for creating a port and town in 1912. Originally established to export coal mined in the Midlands and Yorkshire, it has grown with the industry and now handles both the import and export of a range of commodities and is constantly developing to accommodate industry needs.
The port handles dry bulk, such as coal, ores, grain, fertilizer, road salt and biomass, as well as crude oil, LPG, ro-ro/lo-lo, containers and even Trafalgar Square's traditional Christmas tree from Norway!
Dry bulk terminal
In the last fifteen years, the dry bulk facilities at Immingham have gone through major changes and developments. In 2000, Immingham's Humber International Terminal (HIT) was opened. More than £30 million was invested into this development, adding a 300 m berth to the west of the existing Immingham Bulk Terminal. HIT handles solid fuels, such as coal, as well as biomass, animal feed, fertilizer, road salt, grain, iron ore and other minerals. In response to an increase in coal imports, in 2003, Humber International Terminal's second berth (HIT 2) was constructed, costing £60 million and extending HIT's total quay length by 220 m – enabling it to handle a panamax and a capesize simultaneously on a 520 m quay. HIT 1 focuses on the handling of biomass and HIT 2, coal. Each year, the port handles approximately 10 million tpy of coal and can handle up to 6 million tpy of biomass.
In 2015, HIT set its own record for the highest ever single shipment of grain: 66 000 t.
Solid fuels unloading
HIT can accommodate vessels carrying cargo up to 130 000 t. Coal is often imported from Russia, Colombia, the US and Poland, while biomass is imported from Russia, Canada and North America. The terminal operates a crane and grab system to unload coal, and Siwertell continuous ship unloaders (CSUs) to unload wood pellets. The HIT 1 berth is dedicated to biomass unloading. It discharges with the two CSUs at a rate of 2400 tph – three times faster than a crane. This makes a significant difference to discharge rates.
Material is fed directly onto the overground closed automated conveyor system, which takes biomass to silo storage facilities.
Transfer towers are located along each conveyor, within which there is a diverter gate that brings the product up to a radial arm where the coal is discharged straight down to the coal stockyard.
Two rail lines feed the terminal, which then branch off into three lines. One rail line goes to a coal and biomass loading line, one purely biomass and one purely coal. This makes it easier for the rail lines to switch if any problems arise.
Storage
At the end of the conveyors, two semi-automatic stacker reclaimers deposit the unloaded coal into the 40 ha. stockyard. Coal is stored here until it's called off by the customer. The stockyard is capable of storing 1 million t of coal at any given time. Stockpiles are segregated to ensure no contamination of different quality coals with a distance of approximately 3 m between piles. Stocks are also mapped via GPS to ensure each product is kept separate and can be readily identified for call-off.
ABP has made major steps forward with the storage of biomass (which will be discussed in more detail below).
Biomass is transported to one of eight silo storages via a 1.2 km overground conveyor. Here biomass is stored for an average of 2 – 5 days.
There is also ABP Immingham Bulk Park, which is a dedicated bulk store that offers storage, including undercover bulk storage capacity of 30 000 m2. This is an entirely separate operation that is not part of HIT/IRFT and is located on the other side of the port estate.
When the biomass is ready to be dispatched to Drax power plant, which has converted three of its six boilers to run on biomass, and supplies approximately 7 – 8% of the UK's electricity demand, it is sent from the silo to the rail loadout by an underground conveyor system.
Distribution
Cargo is distributed primarily by rail, but a small amount is sent via road. There are approximately 144 paths out of the terminal for coal and 12 for biomass.
Following recent developments at the port, rail loading facilities for coal and biomass can now load trains with up to 24 x 70 t railcars in just 30 min., handling up to 36 trains per day with the potential to move up to 57 600 t in excess of 2 million tpw.
The rail loading facility is made out of concrete and has two concrete feeders. The Drax railcar system is a fully automated system for loading. The railcar goes in with magnet triggers opening the doors and then closing them at the end. No personnel are required in operational areas, which reduces risks and hazards as people are only required in the control room.
From here, biomass is exported directly to Drax power plant in North Yorkshire.

The eight silos of Immingham Renewable Fuels Terminal are capable of storing 200 000 t of biomass.
Prepared for the long term
Following Drax's announcement to convert three of its coal units to wood pellets in a move to focus on renewable energy, ABP put forward a terminal expansion proposal to help sustain a long-term future for biomass: the Immingham Renewable Fuels Terminal (IRFT). The contract for this was awarded in March 2013 and the development commenced in May 2013. It is now the biggest biomass facility in the world.
ABP invested £130 million into the facility, which included the construction of 4 x 25 000 t silos. Each silo was constructed in eight days, growing approximately 3 m every 12 hr. A new rail loadout facility was created for delivering biomass straight to Drax in North Yorkshire. It has purpose-made railcars for Drax and each railcar cost £125 000. There are six sets of 24 railcars – £3 million worth of railcars.
In March 2014, the port entered phase two of IRFT. This included the construction of 2 x Siwertell CSUs, a second rail loadout expected to be commissioned in 2Q16 and a further 4 x silos. The four additional silos will increase storage capacity from 100 000 t to 200 000 t.
Installation of IRFT
During the construction and installation of IRFT, coal operations continued and the port met its contractual tonnage. This is impressive because the port has a relatively small footprint compared to other international ports and can only accommodate around 900 000 t. Yet it has attained high tonnage input and output of 14 million t in 2015, even with the IRFT development happening right on top of it. This demonstrates the key role effective communication played between the engineers and port personnel.
With its relatively small footprint and decision to maintain operations, the installation process was inevitably going to face some difficulties. But the way these were overcome, again, highlights effective close communication between all workers involved. Richard Camm, the Rail Terminal Operator, explained: "if the communication wasn't there, we would have struggled."
He continued: "one of the trickiest things was building the rail infrastructure in and amongst rail movements and still keeping the coal going out."
The new Biomass Loadout was built over and next to operational running lines loading and delivering coal to customers with minimal disruption to production – a fact Camm puts down to the success of close communication.
The logistics of getting equipment to the facility, storage of equipment and making sure it was in the right place at the right time was also a challenge. The port needed to factor in the shipping movements and traffic going off the port via lorry. Careful forward planning minimised potential obstacles and facilitated the installation process.
Quality control measures
The port has an automatic sampling system in the transfer tower. A company that works for Drax manages this. Environmental Scientifics Group Ltd takes samples to a laboratory and can extract things, such as fines.
There is a magnet on the first conveyor, which removes ferrous metal to a hopper, while on the second conveyor there is an induction coil metal detection system, which detects any metals (ferrous or non-ferrous) not picked up by the first magnet.

£15 million was spent on two bespoke CSUs as part of the IRFT investment.
Health and safety
Along with the five point PPE required across all ports, the Port of Immingham implements a range of health and safety measures for protecting both personnel and products.
The facility has a spark detection system called FireFly. At every point in the transfer towers where there is a change in direction via a chute, there is a system that detects a heat source or a spark. If either of these are detected, it will instantly trigger a water spray that will turn the system off, working on the emergency shutdown system (ESDS) and shutting the whole facility down.
On both sides of the conveyor, there is a heat sensing cable, which is predominantly focused on the belt itself, for example detecting an overheated roller. This cable is linked to a water deluge system and, if a heat source is picked up, the deluge system will activate and flood the whole area in the hazardous section, as well as flood the section ahead of it to accommodate the belt travelling at a certain distance and stopping any heat source.
Inside the silos, the facility has temperature monitoring probes. A cable is suspended in the product to pick up a change in heat source.
Any of the preceding heat detection measures, if activated, would shut down the whole system, including the CSUs.
At the top of the silos, there are fast-acting valves to protect personnel working at the facility if an explosion risk in the silo were to occur. If there was an explosion risk in a silo that is propagating up into the conveyor system, where personnel could be situated, the valves will shut the access point into the silo where the product is entering, in milliseconds.
Dust control
The coal side has five banks of rain birds, a sprinkler system that acts as dust suppression on the coal stockyard in dry and/or windy conditions.
The biomass system has dust suppression systems at every conveyor change of height. This is a vacuum system that reintroduces the dust back onto the belt in a more manageable manner.
Conclusion
ABP's Immingham Port's recent developments have demonstrated the port's ability to respond to market changes and prepare for the future.
With the freight industry constantly changing, the port intends to continue to innovate and invest in order to meet market demands and service the needs of its customers.
Written by Harleigh Hobbs.This article first appeared in Dry Bulk Spring. To read this and much more, register to receive a copy of the issue here.
Read the article online at: https://www.worldcoal.com/special-reports/02052016/port-of-immingham-696/
You might also like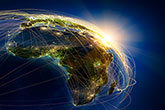 Contango Holdings Plc has advised that the production of washed coking coal has commenced at its flagship Lubu Coking Coal Project in Zimbabwe.