---
South Africa continues to develop and has a large energy-intensive coal mining industry, which the country relies heavily on and therefore is critical to the economy. South Africa has limited proved reserves of oil and natural gas and uses its large coal deposits to meet most of its energy needs, particularly in the electricity sector.
South Africa has the world's ninth-largest amount of recoverable coal reserves and possesses 95% of Africa's total coal reserve. In 2013, 72% of South Africa's total primary energy consumption came from coal, followed by oil (22%), natural gas (3%), nuclear (3%) and renewables (less than 1%, primarily from hydropower), according to the BP Statistical Review of World Energy 2014.
Half of the coal South Africa consumes is used in the electricity sector, followed by Sasol's petrochemical industries, metallurgical industries, and domestic heating and cooking, according to an Eskom November 2014 factsheet.
South Africa's coal production and consumption levels remained relatively stable over the past decade.
South African coal production has the potential to be increased but this is dependent on the capability of expanding railway and export capacity. There is a lack of railway infrastructure for transporting coal, which is a major bottleneck for attempting to expand coal exports. Transnet, South Africa's railway operator plans to invest billions of dollars to expand railway infrastructure. Yet there are delays in South Africa's major export projects.
In 2013, the country produced an estimated 286 million short t and consumed 202 million short t of coal. The majority of the coal produced comes from the Witbank, Highveld and Ermelo coalfields.
Despite pressure from environmental groups on reducing coal's air, land and water pollution, coal use – especially by Eskom and Sasol – Is anticipated to increase over the next few years. Eskom plans to expand coal-fired electricity capacity to meet growing demand by bringing online the coal-fired Medupi power plant (4764 MW) and the coal-fired Kusile plant (4800 MW) in stages over the next few years.
South Africa exports more than 25% of its coal production, mainly to Asia. In 2014, South Africa exported 86 million short t of coal. More than half was exported to Asia, where the largest buyer is India.
More than 90% of South Africa's coal is exported via the world's largest coal export terminal, Richards Bay Coal Terminal (RBCT), on the east coast of South Africa, while the rest is exported via the Maputo and Durban terminals.
Plans to expand RBCT are proposed but are constrained by insufficient rail capacity for transporting coal produced at inland coal fields to the RBCT. The terminal continually operates below capacity, but in recent years, there has been progress to increase the terminals throughput volumes. In 2013, the RBCT exported more than 77.4 million short t of coal and exports in 2014 continued increasing to 78.6 million short t.
Adapted from press release by Harleigh Hobbs
Read the article online at: https://www.worldcoal.com/special-reports/01052015/south-africa-coal-mining-industry-2225/
You might also like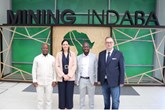 Continuing a spate of new global enrolments, the World Coal Association (WCA) has welcomed South African mining investor, Menar, to its roster of progressive coal members.