---
Caterpillar will present a number of new longwall mining products and solutions at the International Trade Fair for Mining, Power Generation and Metallurgy, 10 - 13 September in Katowice (Poland). Together with the regional Cat® dealer, Bergerat Monnoyeur, Caterpillar will showcase its latest technologies in the MCK Hall, Sector A, Booth A-22.
The Caterpillar exhibit will feature digital presentations of new longwall machines, technologies and services – all designed to make longwall mining safer, more efficient and more productive. A highlight will be the virtual reality experience, which enables customers to experience newly developed virtual reality service tools for Cat longwall systems.
Similar technology is used for the new Cat Virtual Reality Training & Simulation system. Real time and realistic interactive 3D visualisations of real operations with Cat Virtual Reality Services offer opportunities to help trainees and operators understand the complex mechanics and operations of a complete longwall system, where so many pieces of equipment are interrelated.
Digital presentations will also demonstrate Cat shearer automation – using technology for face alignment, horizon control and extraction control. Also, the latest version of Cat longwall machine monitoring, Cat MineStar™ Health for Longwall, will be shown. Health for Longwall is a cost-effective and user-friendly data visualisation and reporting tool. It empowers managers to efficiently view, manage and use machine data to make informed maintenance decisions that will help maximise the availability of longwall equipment.
Cat longwall machines
Caterpillar designs and manufactures complete longwall systems customised to optimise performance in specific applications. The Katowice exhibit presentations will feature new longwall components, such as the Cat EL1000 Shearer, designed for low to mid seam heights. This latest addition to the successful range of Cat shearers covers seam heights from 1.6 - 3.2 m (63 - 126 in.).
The recently introduced Cat PF HD Line Pan for armoured face conveyors is especially designed for heavy-duty longwall applications with demanding conditions. The new pan is the most robust and reliable Cat line pan, lasting up to two times the life of corresponding PF5 and PF6 pans.
The exhibit will also preview the Cat HTD4100 High Torque Drive System for longwall armoured face conveyors. The drive enables a higher level of automation for enhanced speed and torque control and real time monitoring, and its modular design simplifies installation and maintenance. The converter-controlled torque motor offers fast response and precise control to reduce conveyor chain wear and failures.
Caterpillar will also preview its next generation roof support control, PMC-R 2.0. It is the successor to the very successful Cat PMC-R control unit. The new roof support control unit is designed to meet the automation needs of modern, high performance longwall operations. Advanced microcontroller technology with increased computing power and enhanced communication capabilities offers improved functionality to control roof supports in a self-advancing longwall system. The new controller also features enhanced serviceability.
Service and support
Caterpillar and Cat dealers have created a one-of-a-kind, onsite support network for delivering expert service, integrated solutions, after-sales support, fast and efficient parts fulfilment, world-class remanufacturing services and more. Services now include Caterpillar Accredited Rebuilds (CAR) for longwall roof supports. The CAR programme offers a like-new roof support with a new machine warranty and a new serial number, all at a fraction of the cost of a comparable new roof support.
Cat dealers also offers customer service agreements, which deliver an innovative, end-to-end mining solution for the overhaul of underground mining equipment. Cat dealers offer field proven experience in the overhaul of underground mining equipment. The customer service agreement is a guarantee of higher efficiency, delivered through superior quality parts and workmanship, resulting in reliable operation and extended durability.
At Katowice Mining Fair, Caterpillar and Cat dealers will also show their commitment to work alongside customers to improve performance across the operation, leveraging every longwall system component, tool and technology to help improve safety, efficiency and productivity.
Read the article online at: https://www.worldcoal.com/product-news/23082019/caterpillar-to-showcase-longwall-offerings-at-katowice-2019/
You might also like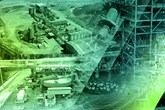 DRA Global has secured the contract for a major design package for Whitehaven Coal's Vickery Extension Project located in New South Wales, Australia.