---
Dust Control Technology (DCT), which focuses on open-area dust suppression, has introduced a new quick-release manifold bracket, engineered to limit worker exposure to harsh service environments and potential safety hazards, while minimising process downtime. Designed to fit all fan-driven models of DustBoss™ atomised mist dust suppression equipment, the new bracket design allows removal and replacement of the manifold in about five minutes, with no tools required.

The quick-release bracket allows removal and replacement of the spray manifold in about five minutes for all fan-driven models of DustBoss™ atomised misting equipment.
The stainless steel bracket and pin mounting system from DCT secures the manifold in position, allowing maintenance personnel to remove and replace quickly for routine cleaning or other service. Initially developed in response to customer input for use in harsh service conditions to reduce potential risk to employees, the design is expected to find utility among any customers wanting to avoid work stoppages and maximise process time.
"The nozzles are one of the critical elements of atomized mist technology," explained Carl Harr, Sales Representative for DCT. "No matter what water source is used for dust suppression, it's going to contain minerals and other dissolved solids, which build up on a microscopic level until eventually the accumulation will interfere with droplet production."
"In the past, some customers have purchased a spare set of nozzles, which helped reduce downtime by allowing maintenance workers to install clean nozzles on their own schedule, rather than when the nozzles were getting plugged," Harr continued. "But in some industries, that still required a worker to shut down the machine and spend 20 – 30 minutes in hostile conditions to remove and replace nozzles for cleaning. And in many cases, if the dust suppression stops, the operation went on hold."
The new bracket can be retrofitted to any of DCT's existing fan-driven designs. Customers can order one mounting kit to fit DustBoss models DB-45, DB-60 or DB-100. The smaller DB-30 incorporates a different stud size and pattern, requiring its own mounting kit. Both kits feature the pin mounting system with no-tool removal. The specially-designed pin is permanently affixed to a lanyard.
Harr said that, depending on the type of accumulation that accrues, customers have used wire brushes, lime-dissolving products and even sonic cleaners to remove build-up. Some choose to have a spare manifold on hand for each DustBoss machine, while others stock just one.
"As long as you have one extra, you can rotate it into service at your discretion," Harr continued. "You can plug in the new one and take the one that was in service back to the shop for cleaning. Once the nozzles have been cleaned, it can be installed on another machine to permit cleaning of that manifold, and so on."
With worker safety foremost in the minds of customers, the new design is already gaining popularity. One customer said, "It makes changing the manifold a 2-minute job. We switch them out every three months because of the operating conditions, so we can inspect and clean as needed. Having a spare manifold on hand facilitates quick replacement on our schedule, rather than when we're forced to do it."
Adapted from press release by Sam Dodson
Read the article online at: https://www.worldcoal.com/product-news/22012015/fighting-coal-dust-1776/
You might also like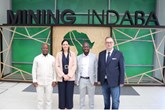 Continuing a spate of new global enrolments, the World Coal Association (WCA) has welcomed South African mining investor, Menar, to its roster of progressive coal members.