---
RungePincockMinarco (RPM) is set to release HAULSIM 2.3 at the 2017 SME annual conference, 19 – 22 February in Denver, US. Version 2.3 will be available for live demonstrations at SME along with the company's industry leading virtual reality mine planning software.
Other RPM highlights at the SME conference include a presentation from the South Dakota School of Mines on the benefits of HAULSIM in replicating the actual mining environment using Discrete Event Simulation. The presentation, which is scheduled on Tuesday 21 February, will explore how HAULSIM was used to simulate a mine's load and haul network to demonstrate the benefit of performing regular model reconciliation with new information in creating a step change in performance and an increase in productivity.
The release of HAULSIM 2.3 demonstrates RPM's ongoing commitment in maintaining the most advanced simulation tool on the market. With this release, users can now produce more comprehensive and extended reports through detailed Pivot Grid reporting in the experimenter. This gives the end-user greater visibility and advanced analytics of the direct impact of equipment changes to the bottom line.
Simulation Product Manager, Adam Price said: "Most haulage software does a calculation where as HAULSIM does a full discrete event simulation. Having a discrete event simulation engine at its core means that HAULSIM works differently from other 'deterministic' mine haulage modelling tools. With this release, users can more easily identify queuing and vehicle interactions as a result of more complex reporting capabilities."
HAULSIM's reporting enhancement was developed in partnership with the RPM consulting group and has already been used to help identify bottlenecks at a number of our customers mine sites. Additional enhancements of this release include:
Improvements to 'grouping' functionality. Changes made to the way that equipment is grouped makes it quicker and easier to quantify the impact operational decisions like 'hot-seating' and 'staggering start times'.
Updated equipment library. The HAULSIM equipment library contains the latest in published data enabling users to draw upon the most up to date equipment information directly from manufacturers to calculate the speeds that equipment travel in the model.
Leveraging industry leading simulation technology, HAULSIM integrates real-world data to empower users to optimise mine fleet outcomes.
Read the article online at: https://www.worldcoal.com/product-news/17022017/rpm-to-release-improved-simulation-software-at-sme/
You might also like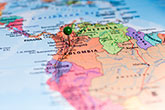 Benjamin Hill has entered into a nonbinding letter of intent with Aion to acquire interest in a Colombia coal project.