---
Schneider Electric, a leader in digital transformation of energy management and automation, launched a new service that will help industrial manufacturers modernise their programmable logic control (PLC) systems easily, safely and more cost effectively, sometimes in less than one hour.
By reducing downtime and disruption to the operation, the service provides an easier migration to the company's Modicon™ M580 programmable automation controllers. With built-in Ethernet capability and best-in-class processing power and memory, the Modicon M580 ePAC is the only PLC that can enable 100% ROI within three months for hybrid applications.
"Upgrading older or obsolete PLC systems is proven to increase the safety, efficiency, reliability and, especially, profitability of our customers' hybrid and process operations," said Nathalie Marcotte, `Senior Vice President, Industry Services, Schneider Electric. "Our PLC modernisation service helps manufacturers quickly and efficiently leverage Schneider Electric's value-focused IIoT technology and expertise to gain better insight into their industrial operations. Upgrading to the Modicon M580 ePAC will empower their workforce to make better, more accurate business decisions at the right time, which enables them to drive measurable improvements to their operational profitability, safely and sustainably."
The seamless migration combines a Unity M580 application converter with a migration expert configuration utility tool, which identifies operational gaps and provides recommendations to solve each customer's unique systems challenges. This combination enables customers to easily convert Unity software applications on both Quantum and Premium platforms to be compatible with the M580, while providing the option to produce a pre-engineering proposal for the new M580 I/O. A quick wiring system for the TSX Premium processor allows upgrades to be completed in less than one hour.
"Today's pace of business, especially in manufacturing, requires technology built for faster, more connected operations. Many of our customers are relying on older, inefficient PLCs that are less reliable, have a higher total cost of ownership and leave operations vulnerable to new and emerging threats," said Marcotte. "Modernising to the Modicon M580 ePAC gives our customers a future-proof, IIoT-ready platform, one that can quickly help them control their operational profitability in real time, without disrupting their business.
"These services are the latest example of how we help our customers migrate to value-focused IIoT solutions via EcoStruxure PlantTM. Our open, interoperable, IoT-enabled system architecture and platform allows us to innovate at every level to improve the safety, reliability, efficiency and profitability of our customers' operations in real time. It helps them convert their automation investments into the profit engine of their business."
The Modicon M580 ePAC can help industrial manufacturers achieve better, earlier ROI and 100% returns on their project investments in less than three months. Efficiencies gained with the Modicon M580 ePAC speed project execution and create better, more accurate and effective control over the plant's operational profitability.
Read the article online at: https://www.worldcoal.com/product-news/15122017/schneider-electric-introduces-new-services-to-modernise-plc-operations/
You might also like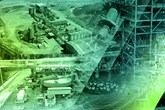 DRA Global has secured the contract for a major design package for Whitehaven Coal's Vickery Extension Project located in New South Wales, Australia.