---
Nearly a year after acquiring one of Australia's leading mining tyre service firms, Kal Tire's Mining Tire Group will be showcasing how the company is continuing to expand its reach and services for customers from coast to coast at the upcoming Asia-Pacific's International Mining Exhibition (AIMEX), August 2017.
"Kal Tire is committed to having a strong presence in the world's major mining markets, and Australia is an important mining region that we're investing in," said Dan Allan, Senior Vice President, Kal Tire's Mining Tire Group.
Kal Tire's Mining Tire Group has been operating in Western Australia for almost seven years, offering a complete range of tyre service and supply solutions. In 2016, the organisation acquired the mining tyre services business from Australian leader, Klinge & Co., securing Kal Tire's presence across Australia.
"At AIMEX, we look forward to showcasing the breadth of our ability to serve Australia. We are a global company with 45 years' experience offering services in more than 20 countries," added Darren Flint, managing director, Kal Tire Australia. "That level of expertise and presence means we have resources available when needed, we also have global standards for operating and we bring industry best practice to safety and risk management in all aspects of our services."
In addition to showcasing its full tyre management and supply capabilities, Kal Tire will be highlighting its focus on innovation at AIMEX 2017:
Ultra Repair™: An exclusive patch process developed by Kal Tire to repair large injuries in earthmover tyres and restore them to their original strength and integrity at a fraction of the cost of new tyres. Three years after its launch in Canada, and hundreds of earthmover tyres being saved from scrap piles, Ultra Repair™ is now available at facilities in Muswellbrook, New South Wales, and Kewedale, Perth.
Innovation in tyre services: on display will be Kal Tire's latest development, a gravity assist system. This mechanical arm allows technicians to safely, weightlessly and precisely manoeuvre heavy mounting tools such as torque guns.
Earthmover tyre recycling: in order to offer services to customers at every stage in the life cycle of a mining tyre, Kal Tire is embarking on a thermal conversion solution — a treatment that thermally decomposes organic materials with heat in the absence of oxygen, and turns tyres into fuel oil, steel wire and carbon black.
"When it comes to innovation, our focus is on developing tools that improve productivity, value and safety in mining operations," said Flint. "In Australia, we have recently introduced our patented ram mount tools, along with our new service trollies and tyre deflator tool."
Ram mount tools securely hold the ram in place when breaking the tyre bead rather than use tools not designed for dismounting. So far two have been developed specifically for the CAT 797 and Komatsu 930E.
Two types of service trollies (electrical and pneumatic) have been developed with remote control capabilities, enabling technicians to remotely inflate tyres from a safe distance.
The tyre deflator tool is designed to significantly reduce earthmover tyre deflation time by about 30 minutes, decreasing service time and improving the overall utilisation of the hauling trucks.
"Our teams are driven by helping customers maximise their tyre investment and related assets," concluded Allan. "Our constant goal is providing custom tyre management services and products of measurable value, and we look forward to doing that for our customers in Australia for years to come."
Read the article online at: https://www.worldcoal.com/product-news/13042017/kal-tires-mining-tire-group-attending-aimex-2017/
You might also like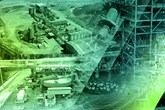 DRA Global has secured the contract for a major design package for Whitehaven Coal's Vickery Extension Project located in New South Wales, Australia.