---
RungePincockMinarco (RPM) has today re-established its place in the coal market with the launch of their new opencast coal XPAC Solution (OCCS). This delivers a leap forward in scheduling specifically for the coal industry.
Craig Halliday, Executive Vice President – Software, commented: "This new open cut coal solution will handle more data and process schedules faster than any other application on the market. Everything about this solution is more comprehensive, streamlined and user friendly than any other product offered in the coal space previously."
Differentiating it from competitors, RPM has delivered a new solution that is intended for coal miners facing the challenges of today. This opencast coal solution will incorporate sophisticated product optimisation, dynamic haulage functionality and the advanced destination scheduler.
One of the biggest challenges faced by mine planners is the ever-changing haulage routes in strip mines. The solution uses its dynamic haulage functionality to manage this with ease and sophistication.
"Planning haulage during the course of scheduling used to be a dream, but we have made it a reality. The Coal Solution's Dynamic Haulage component is something unique. Cleverly considering the varying haul routes at each stage of the schedule, you can be confident that you have the optimal route to get your product from source to destination."
The ability to deliver both correct product specification and targets is another major challenge so RPM has developed a method of optimisation that is comprehensive and powerful.
"Another key feature that is proving to be invaluable for coal miners is the Product Optimiser. Blending is critical in coal mining – being able to plan for this and optimise the schedule with your targets in mind is an integral part of the scheduling process. Using the Product Optimiser for multi pit management, multi stockpile management, and the delivery of multiple products, users can deliver results quickly during the course of running the schedule."
As well as leveraging its latest innovations, RPM have stuck with some tried and true methods as well, such as the Advanced Destination Scheduler.
"The Advanced Destination Scheduler has long been a key component of RPM's scheduling products, but now incorporated into the Coal Solution it is more powerful than ever. The scheduling of sources and destinations and incorporating haulage is all simultaneously at the time of building the schedule give a complete picture of the entire mining operation."
"RPM pioneered the move into Enterprise Mine Planning, so in following that strategy this latest Solution benefits from all the development in that area. Using the central Enterprise Planning Framework the Coal Solution leverages the robust master data module allowing greater control and delivering new levels of transparency in planning. Utilising RPM's enterprise model repository also ensures that a single source of the truth is used at all times."
Edited from press release by Harleigh Hobbs
Read the article online at: https://www.worldcoal.com/product-news/11052016/rpm-gets-back-into-coal-with-its-new-opencast-coal-solution-748/
You might also like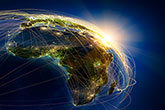 Contango Holdings Plc has advised that the production of washed coking coal has commenced at its flagship Lubu Coking Coal Project in Zimbabwe.