---
Kal Tire pushed innovation at MINExpo 2016 in Las Vegas with a number of developments aimed at solving its mining customer challenges.
"For us, innovation is about the small, incremental things we can do that are part of that larger contribution of enhancing more efficient operations," said Dan Allan, Senior Vice President of Kal Tire's Mining Tire Group. "If we're diligent and we focus on the details, the big picture around productivity is going to look a lot better."
The company showcased a number of recent innovations, including Ultra Repair – the company's product and process that repairs large injuries to ultra-class tyres. Other developments on show including a gravity-assist system that helps operators manoeuvre heavy mounting tools, such as torque guns, and its tyre recycling solutions.
Repairing ultra-class tyres
Historically, ultra-class tyres – such as those used on large mining trucks – were difficult items to repair. "Repairing ultra-class tyres wasn't easy if you wanted them to give a value performance when they were put back into operations," explained Jay Seals, Technical Support Manager for Retreading and Repairs at Kal Tire.
That challenge led to a 15 year journey to develop an ultra-class tyre repair technology that would effectively restore even the largest tyres. The result was Ultra Repair – launched in 2014 in Canada and now being rolled out across Kal Tire's retread and repair facilities around the world.
"We knew firsthand it would be key to develop a process and repair larger injuries, but also that our patch would be capable of resisting such extreme conditions," continued Seals. "Being able to send a 63-inch dump truck tyre back into production with maximum performance instead of sending it to a scrap pile saves customers thousands of dollars – per tyre. The message is simple: if tyres are lasting longer, operating costs and new tyre purchases are reduced. We want tyres to be worn out, not thrown out."
The Ultra Repair product and process – on show at MINExpo – involves identifying yres with large injuries and then inserting the Ultra Repair patch to give the tyre a robustness that its original strength, integrity and performance. It allows the repair of large injuries to the tread, shoulder and sidewall of tyres without risking bulging in extreme conditions.
Gravity-assist system
The Kal Tire Innovation Centre opened in 2015 with the aim of incubating new ideas from within the company's experienced workforce. "Kal Tire has always believed we should continuously look for a better way to do things," said Peter Nilsson, Innovation and R&D Manager at Kal Tire.
"For a long time, suppliers turned to us for our global expertise to develop tools and solutions, or we turned to them to execute, but we realized we could really improve our service offerings and our value to customers if we pursued innovation in products and services ourselves."
One such idea is a gravity assist system that allows technicians to weightlessly maneouvre tools and parts – such as a 60 lb torque gun. "What started us thinking about the gravity assist system, were questions about how we could support the weight of these tools to reduce strains and injuries for technicians, and how we could speed up the process," explained Nilsson.
The tool – which is unpowered – reduces the risk of pinched fingers, fatigue and strain common when mounting large tyres – particularly ultra-class tyres.
Other developments that have come out of the innovation centre include a ram mount that holds the ram in place when breaking the bead and an ultra-class tyre deflation system that reduces the time to deflate an ultra-class tyre from 30 min. to just 12 – 15 min.
Tyre recycling solution
A final innovation on show at Kal Tire's MINExpo 2016 stand was its thermal conversion mining tyre recycling system. The system enables the company to offer a complete end-to-end service for mining tyres: from sale to scrap.
"We wanted to be a part of the complete life cycle of the tire we sell and service," explained Allan. "It's important to our customers and the countries we operate in, and it's important to us."
The solution involves the thermal conversion of scrap tyres – a process that had been previously used on passenger and truck tyres but was difficult on larger tyres due to their size, said Scott Farnham, Project Manager of Recycling Solutions at Kal Tire: "We had to create much larger equipment to manage the enormous size and weight of these tyres."
The process starts at the mine site, where tyres are collected then transported to the processing plant. At the plant, tyres are then cleaned to help remove impurities before moving into the vacuum chamber.
Since the chamber uses heat in the absence of oxygen, there is no smoke, no burning, just melting and decomposing of the tyre into three elements: steel wire, which can be reused in steel products; fuel oil, which can be used to power heavy oil generators that will produce electrical energy; and carbon black, which can be re-used in paints, printer ink and plastics.
"Virtually 100 per cent of the tire is repurposed," says Farnham.
Plans are underway to construct a plant in Chile with the capacity to recycle nearly 20 000 kg of tyres per day. The plant will be constructed to the highest international standards, positioning the technology for international roll-out in coming years.
Read the article online at: https://www.worldcoal.com/product-news/10102016/minexpo-2016-kal-tire-majors-on-innovation/
You might also like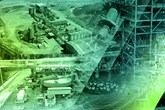 DRA Global has secured the contract for a major design package for Whitehaven Coal's Vickery Extension Project located in New South Wales, Australia.