---
Komatsu Mining Germany.
According to Peter Buhles, Vice President, Market Sales and Service at Komatsu Mining Germany, the PC4000 is "the most innovative and advanced machine in the 400 t hydraulic excavator class".
"Komatsu constantly challenges itself to develop world-leading machinery for mining and construction," Buhles continued. "Its highly qualified engineers in its development centres in Japan and Germany are dedicated to continuously improve the machines' performance, cost-per-tonne ratio and safety. This is supported by excellence and commitment to aftersales service, parts and logistics."
The PC4000 hydraulic excavator
The PC4000, when paired with the HD1500, has provided a quality solution for Komatsu customers, in terms of availability, material movement and cost per tonne. Combining the PC4000 with the HD1500, the company is working closely with its customers on continuous improvement, promising customers strong load-and-haul performance during very difficult commodity markets.

The Komatsu PC4000.
In today's tough environment of low and unstable commodity prices, companies are driven to optimise their businesses, working with the OEM and their local support and service provider. Increased production and lower costs are demanded – and Komatsu and its distributors are working with their customers and responding.
The PC4000 has been continuously advanced to meet demands for increasing productivity at the lowest cost per tonne. The state-of-the-art steel structure, outstanding power control and high digging and break-out forces allow the PC4000 to outperform the competition in any environment and application. Equipped with specially designed kits for hard rock, high altitude and extreme temperatures, the PC4000 is ideally suited to the most challenging mining operations in the world.
The updated PC4000 boasts a number of new features and design changes to improve its already exceptional reliability and productivity. For example, the electrical system has been completely revised and simplified using a "lowest cost-per-ton approach", reducing the number of electrical parts like controllers, relays and circuit breakers by up to 59%. The choice of technology used in the PC4000 has been driven for further reduction in downtime and increased availability, while not neglecting quality and serviceability. The new PC4000 has additional improvements, such as hose routing for reduced wear and longer life, leading to lower cost and improved uptime.

Parts saving by simplified system Komatsu PC4000D-6.
With the latest PC4000 model, a new generation of KomtraxPlus, Komatsu's remote condition and health monitoring system, was launched. New features, as well as additional data storage, allows instant monitoring of the machine's condition and performance via a WiFi antenna and Komatsu's ORBCOM system. The data is directly transferred to management, allowing them to better schedule maintenance and operation. The remote diagnostic functionality can also be
easy integrated into additional tools, such as Modular Mining's MineCare System, for long-term analysis.

KomtraxPlus functionality.
Dedicated to safety
Above all, Komatsu is dedicated to safety: all development is critically examined in this regard. The company clinically evaluates risks involved with operating, maintaining and servicing its machines and there is a rigorous process of continuous improvement. Some of the latest safety improvements include new LED lighting, which is brighter, more energy efficient and better illuminates the working area during night operation. In addition, impact resistant glass is standard to protect operators from falling objects and flyrock.
Komatsu developments are also responding in areas such as remote monitoring, maintenance planning and related tools, condition monitoring, enhanced training, site reviews and evaluation, among others, to support customer efforts to reduce costs, while improving performance. As Buhles concludes: "Qualified personnel combined with both technical training and employee development are the key factors for success. Komatsu distributors have created a culture of customer support, through both knowledge and experience, supported by a senior management team that cares. The quality of our personnel is evident to support mine sites around the world to reduce MTTR and increase machine availabilities as well as MTBF".
Conclusion
Customers have found that the PC4000 and the HD1500, combined with Komatsu factory and distributor support, have met their performance expectations. In these difficult commodity markets, customers value Komatsu's approach in providing a supportive and creative partner to helping them to reach their cost reduction targets without sacrificing production availability.
Written by Komatsu Mining Germany. Edited by Jonathan Rowland.
Read the article online at: https://www.worldcoal.com/product-news/10022015/komatsu-pc4000-hydraulic-mining-excavator-coal1869/
You might also like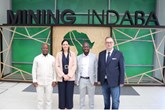 Continuing a spate of new global enrolments, the World Coal Association (WCA) has welcomed South African mining investor, Menar, to its roster of progressive coal members.