---
Sandvik continues to move forward with its advanced automation offerings. The latest addition to the automation family is Sandvik AutoMine Surface Drilling for rotary drill rigs, with the release of the trailer-mounted teleremote station for operation of a Sandvik DR461i rotary blast hole drill.
Sandvik AutoMine Surface Drilling technology enables mines to operate equipment from a remote operation centre or from the Sandvik AutoMine teleremote command trailer. The remote station can be installed in a van, at a fixed control centre or on a portable self-powered trailer. The system can communicate via line of sight, direct to the drill, or via the mine communication network. The command centre can accommodate up to three drills per station. One operator can start one hole, initiate the next drill to start another hole and then a third – ensuring that all units keep drilling with minimal delay, optimising mine productivity.
The easy-to-use GPS-based 3D navigation system provides hole accuracy within 5 cm, both for hole location and drilling depth, giving improved bench quality. The actual drilling data is immediately available in the command centre to be used in downstream processes.
"Field testing revealed improved drilling performance and a better working environment for the operator," said Tab Siegrist, Product Line Manager, Surface Drills, Sandvik Mining and Rock Technology. "Night operation, using remote cameras and an LED lighting package, also helps to keep productivity high. Getting the operator away from the cab can also be beneficial from a safety perspective, due to unknown underground voids, high wall condition or other geotechnical concerns. Our teleremote fleet option also provides increased efficiency, with one operator able to run up to three drills simultaneously, also reducing drilling variation and making the downstream process more efficient."
The debut of Sandvik AutoMine Surface Drilling uses the improved autonomous capabilities for Sandvik DR461i drill rig, required for efficient teleremote fleet use. This includes the latest versions of "autodrill" and auto level: providing more consistent control of drilling parameters will improve drilling results, with less premature wear on the drill feed and rotation systems. Improved uptime thanks to fewer breakdowns means more holes every year, and at lower cost. Another benefit of the automated features is that less-experienced operators can now drill at a more predictable level.
Sandvik 'i'-series drills, such as Sandvik DR461i, feature the proven Sandvik Intelligent Control Architecture (SICA) CAN bus system. This common platform across all Sandvik 'i'-series surface drills provides customers with advanced diagnostics to minimise time to repair, plus scalable automation that can be added at a later date. Sandvik AutoMine Surface Drilling takes technology from market-leading Sandvik AutoMine solutions even further.
Read the article online at: https://www.worldcoal.com/product-news/07102016/minexpo-2016-sandvik-automine-surface-drilling-on-sandvik-dr461i/
You might also like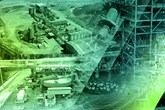 DRA Global has secured the contract for a major design package for Whitehaven Coal's Vickery Extension Project located in New South Wales, Australia.