---
ADE, Australian Diversified Engineering, is a company that specialises in water truck spray systems, designed to suppress the dust on haul roads on mine sites, quarries, and large construction sites.
The Australia-based company has announced it has developed the only system in the world that can deliver consistent, measurable water coverage for dusty haul roads.
ADE's innovative system: the Electronically Controlled Operating (ECO) Spray System, uses advantaged technology that measures the truck ground speed, the road surface material, road geometry and other factors to calculate and supply a precise amount of water to the road.
This system can create a safer environment for haul trucks and save the mine operators time, money and water costs, as the trucks that cannot measure the water being sprayed often spray far more than is necessary, meaning they need to spend more time being refilled, and more water is sucked from the surrounding environment.
On sites where water typically costs approximately AUS$2000 per mega litre, using the ECO Spray Premium a fleet of five trucks operating 18 hr/day can save 4 million litres of water per day, or 1.4 billion litres per year – a monetary saving of AUS$2.9 million.
ADE's General Manager and Director, Clive Gray, explained the ECO Spray Premium gives mine operators the power to apply the minimum amount of water needed to ensure their haul roads are safe, something that mine operators had been looking to do for years.
"Mine operators know the significant costs and dangers of over- or under-watering haul roads, but until now there was no way of measuring exactly how much water was being applied, and whether it met industry recommendations," stated Gray. "ECO Spray Premium totally removes the guesswork, and can save mine operators time, money and water as a bonus."
Edited from press release by Harleigh Hobbs
Read the article online at: https://www.worldcoal.com/product-news/06012016/ade-develop-the-worlds-first-measurable-water-spray-system-12/
You might also like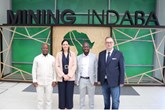 Continuing a spate of new global enrolments, the World Coal Association (WCA) has welcomed South African mining investor, Menar, to its roster of progressive coal members.