---
A. W. Chesterton Co. has launched a new and improved ARC MX1 that takes the combination of abrasion and impact resistance in a ceramic reinforced epoxy lining to a new level.
Reinforced with nearly 95% by volume of various grade sizes of high-purity alumina ceramic beads and silicon carbide flakes, the MX1 takes wear resistance to a new level.
Chesterton's R&D innovation team has reformulated this product to resist repetitive high impact, as well as extreme sliding abrasion forces.
High impact and sliding abrasion forces are commonly associated with materials handling systems, such as chutes, hoppers, pneumatic and hydraulic conveyance systems, pipe elbows, etc. To improve the impact resistance of such a highly reinforced lining, the company used a novel hybrid polymer matrix to increase ductility and toughness, while retaining the critical cohesive properties required for reliable performance in these aggressive application areas.
MX1 can be applied at a nominal 6 mm (240 mil) and up film thickness after grit blasting to a minimum of Sa 2.5/ SP10 (Near White) cleanliness with a 75 – 125 µm (3-5 mil) angular profile. The new and improved MX1 can resist more than 68 NM (50 ft.-lbs.) of force, has tensile pull off adhesion values of 4200 psi (295 kg/cm2) per ASTM D4541, and slurry abrasion response number of 1778 per ASTM G75, surpassing other conventional ceramic modified epoxy linings by 25% or more.
Edited from press release by Harleigh Hobbs
Read the article online at: https://www.worldcoal.com/product-news/04112015/new-and-improved-arc-mx1-3107/
You might also like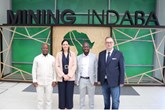 Continuing a spate of new global enrolments, the World Coal Association (WCA) has welcomed South African mining investor, Menar, to its roster of progressive coal members.