FLSmidth's new horizontal fine coal centrifuge takes dewatering to a new level
Published by Stephanie Roker, Editor
World Coal,
---
Dewatering is perhaps one of the most important stages of high quality coal production. If coal mines do not achieve the lowest possible moisture content, they risk delays in the production line, contract penalties and increased transportation and storage costs – all of which affect the bottom line.
When it comes to fine coal separation and dewatering, the HFC1300 is already a known and trusted product among Australian, US, South African and European customers. Now, with even more features and unbeatable efficiency, HFC1300-S2 is the impressive Series 2 edition that has taken over as the new market leader. This upgraded horizontal fine coal centrifuge can be relied upon for high throughput with exceptional dewatering efficiency – and it is built to last.
Longstanding market leader for fine coal separation and dewatering
The popular, original HFC1300 series began operating in the Australian coal industry in 2005. It was designed to deliver larger and higher throughput for fine coal circuits, while maintaining similar dewatering efficiencies to the smaller fine coal centrifuges. In 2018, Series 2 enhancements improved productivity even further thanks to extended basket life, better clutch performance, and an advanced lubrication system and improved labyrinth attachment.
Performance of the HFC1300-S2 has already been proven through extensive onsite testing.
Features and performance
The HFC1300-S2 is the largest capacity fine coal scrolled basket centrifuge in the world, designed to dewater 100 tph of REFLUXTM Classifier product or spiral product. This is roughly twice the capacity of its little brother the FC1200.
It can dewater fine coal nominally less than 6mm. In Australia, it is widely used to dewater coal from REFLUX™ Classifier product or spiral product, which is normally less than 2 mm and greater than 0.1 mm in size. With G-forces of up to 350 and a large basket area, you get increased solids movement across the basket and the driest possible product.
The HFC1300-S2 horizontal fine coal centrifuge delivers:
Quick access to routine wearing components through hinged door (complete with the feed chute).
Easy replacement of components in complete sub-assemblies due to modular design.
New dual-port labyrinth lubrication system with large ports and staggered cannister replacement.
New torque monitoring sensor to give real-time feedback.
Larger, more robust clutch for better control.
Optimised rotational speed.
Small footprint with large basket open area.
New WEAR-RESIST™ coated scroll.
New WEAR-RESIST coated patented feed distributor.
Externally mounted, easily accessed drive motor and drive belts.
Effective vibration dampening due to rubber mounts and isolated centrifuge frame.
Available as a Series 1 system upgrade
Mounts, inputs and outputs were not modified for the Series 2 enhancement. This makes upgrading from the HFC1300-S1 simple and fast, requiring no plant modifications or the expense of a new installation. As part of the FLSmidth Service Exchange product line, Series 1 models can be upgraded to the HFC1300-S2 within days of an order being placed.
Read the article online at: https://www.worldcoal.com/product-news/02102019/flsmidths-new-horizontal-fine-coal-centrifuge-takes-dewatering-to-a-new-level/
You might also like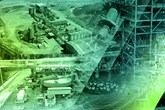 DRA Global has secured the contract for a major design package for Whitehaven Coal's Vickery Extension Project located in New South Wales, Australia.