Maptek advanced modelling and analysis solutions showcased at CIM
Published by Louise Mulhall, Editorial Assistant
World Coal,
---
For some time the state of mine has been to collect information around technical processes. The latest thinking acknowledges effective management and application of that information as key to success.
Experienced mining technology developer and regular at CIM, Maptek presents a range of advanced spatial modelling and analysis solutions that integrate the huge amount of data, streamlining collection and reporting to deliver the most value.
The latest I-Site laser scanning systems offer longer range and greater survey accuracy in a well-designed system that is smaller, lighter and faster than earlier models. A new, improved HDR digital camera provides sensational high resolution panoramic imagery which supports geotechnical studies for maintaining a safe working environment.
'Our domain knowledge is best fit with industry needs,' said General Manager for North America, Rob Hardman. 'Only Maptek can provide the reliable, integrated solutions which make sense of the vast amount of information flowing from the executional processes in an operation and feed results back into the production cycle - effectively closing the loop between production and planning.'
BlastLogic enables operations to make blast design and implementation decisions with reference to mine plans, geology and geotechnical data. BlastLogic also connects fleet systems, explosives loading and initiation, and production management and reporting systems, allowing continual improvement up and downstream from the blast process.
Visitors to CIM Booth 1500 can preview new electronic tie-up tools, which enables advanced capability for blast design, modelling and managing performance on the one platform.
'Extending the single modelling and analysis environment through to scheduling provides a holistic solution for mine operations,' added Hardman. 'Evolution works directly from resource models to deliver accurate schedules alongside practical production plans.'
Maptek booth visitors will be able to preview new functionality coming in Vulcan 10.1. Upgrades to stope optimisation improve underground design productivity, significantly reducing run time from days to hours, and minutes in some cases. The latest round of development offers better control and flexibility for defining stope shapes, and even faster optimisation streamlines mine planning and scheduling. Simulation data can be incorporated in the optimisation for risk assessment.
New underground ring design and analysis developments in Aegis target the need to balance costs against productivity improvements. Comparing the cost of different blast strategies allows operations to achieve desired break and fragmentation results. A new module for modelling blasts allows for estimation of breakage and damage, and reconciliation to as-built survey metrics.
Stop by Booth #1500 at CIM to see the value and benefits of Maptek technology. You won't be disappointed!
Read the article online at: https://www.worldcoal.com/product-news/02052017/maptek-advanced-modelling-and-analysis-solutions-showcased-at-cim/
You might also like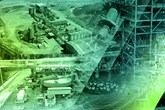 DRA Global has secured the contract for a major design package for Whitehaven Coal's Vickery Extension Project located in New South Wales, Australia.