---
Dubai Electricity and Water Authority (DEWA) has signed a Memorandum of Understanding (MoU) with National Energy Technology Laboratory (NETL), which operates under the US Department of Energy and specialises in energy security, as well as the R&D of coal, natural gas and oil technology.
The MoU aims to strengthen cooperation and develop new framework as per the highest international standards to make optimal use of the latest technologies in clean coal, the reusing, storing and capturing of carbon, water supply systems and the treatment of sewage water.
The MoU was signed between HE Saeed Mohammed Al Tayer, MD & CEO of DEWA, and Douglas Hollett, Principal Deputy Assistant Secretary (PDAS) in the Office of Fossil Energy, on behalf of Dr Grace M. Bochenek, Director of NETL, US Department of Energy. Also present during the signing of the MoU was Stephanie Duran, Director of the Division of International and External Partnerships at the Office of Clean Coal and Carbon Management, Dr Chuck Taylor Director of International Partnerships at NTEL, Dr Grant Broomall, General Engineer of researches at NTEL, Susan Carroll, Assistant Chief of the Carbon Management Programme at the Lawrence Livermore National Laboratory, Joseph Jebelen, Representative of the Economic Section of the Consulate General of the US, and Waleed Salman, Executive Vice President of Strategy & Business Development at DEWA.
The MoU aims to facilitate the sharing of information, analysis of technical data and tools, and the exchanging of experiences among specialised scientists, engineers and experts, in order to conduct joint research and contribute to international efforts to tackle climate change, and other issues that pose a threat to the energy sector.
"DEWA works to achieve the vision of His Highness Sheikh Mohammed bin Rashid Al Maktoum, Vice President and Prime Minister of the UAE and Ruler of Dubai, and the Dubai Clean Energy Strategy 2050, which aims to diversify energy resources, and provide 7% of Dubai's energy from clean energy sources by 2020, 25% by 2030, and 75% by 2050. We are keen to strengthen partnerships with local and international private and government organisations, to exchange best practices and experiences, enabling us to develop the skills of our human resources. We are pleased to be cooperating with NETL, to explore the future of energy and disruptive technologies. This supports our strategy to prepare a generation capable of becoming leaders in the field of R&D, renewable energy, water technologies and reducing carbon emissions. This MoU reflects our belief in the importance of investing in new technologies and exchanging experiences, to tackle climate change. This will result in the continuous development of technologies and innovations, to promote economic development, while maintaining environmental sustainability," said Al Tayer.
"DEWA continuously supports R&D, keeps pace with new technologies and solutions, and develops renewable energy technology in adherence with the latest advancements in the field, to promote a share of knowledge between DEWA staff and their counterparts in other international foundations. We have signed a number of agreements with different authorities, institutions, and international companies such as NETL, which operates under the US Department of Energy, to train our employees in regard to the latest developments in energy, water, and environment," continued Al Tayer.
DEWA also cooperates with the International Renewable Energy Agency (IRENA) to research renewable and alternative energy sources, and other means of reducing gas emissions and the carbon footprint," concluded Al Tayer. NETL conducts research on energy and the environment, to benefit future generations, in addition to implementing effective programmes in the fields of clean coal, carbon capturing, combustion turbines, water and energy, advanced materials, computer modelling systems, system analysis, and unconventional oil and gas projects.
Read the article online at: https://www.worldcoal.com/power/31012017/dewa-signs-mou-with-national-energy-technology-laboratory/
You might also like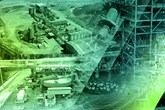 DRA Global has secured the contract for a major design package for Whitehaven Coal's Vickery Extension Project located in New South Wales, Australia.