Drax sues UK over U-turn on converting coal unit
---
UK electricity producer, Drax, has announced that the company has begun legal proceedings against the UK government over a decision not to support the conversion of one of its coal-fired power units to biomass under a new subsidy scheme.
Drax's plans to modernise its coal-fired power plant in Yorkshire have been dealt a significant blow by the government's decision. The company hoped to convert the plant to burn biomass and, in December 2013, two units at the plant were short listed to receive contracts to convert under the new government's subsidy scheme.
"Nothing has changed, as far as our plans are concerned, between being deemed eligible in December and now. We have, therefore, commenced legal proceedings to challenge the decision," Drax chief executive, Dorothy Thompson, said in a statement.
The government is changing the way in which it supports renewable energy projects by replacing a mechanism for direct subsidy payments with a system whereby qualifying projects are guaranteed a minimum price at which they can sell electricity.
The legal framework of the subsidy regime is set to be tested by Drax's legal challenge, and its outcome will set a legal precedent for the scheme, which is due to begin in April 2015. The outcome of the lawsuit could sway other investors in UK biomass conversion projects.
The government said the project for converting Drax's Unit 3 at the plant did not meet all its assessment criteria for the new contracts-for-difference (CfD) scheme.
It recommended that Drax continue to use the current direct subsidy scheme, which analysts say is less lucrative.
"We believe that this decision is disappointing. It has undoubtedly created some greater uncertainty," Angelos Anastasiou, a utilities analyst at Whitman Howard, said.
The government granted a CfD contract for the conversion of Drax's Unit 1, which will receive a guaranteed power price of £105/MWh from April 2015 when the new scheme is due to start, pending EU state aid clearance.
Edited from various sources by Sam Dodson
Read the article online at: https://www.worldcoal.com/power/24042014/drax_will_sue_uk_government_745/
You might also like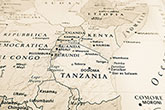 Edenville Energy Plc has provided an update on its Rukwa Coal Project in Tanzania.