Carbon Energy to license its keyseam technology to Indonesian power project
Published by Harleigh Hobbs, Editor
World Coal,
---
Carbon Energy has signed a non-binding term sheet with Ascot Energy Pte Ltd (Ascot Energy) to license its keyseam technology and services to develop a modular 30 MW capacity syngas fuelled power project in Indonesia.
Ascot Energy, a Singapore-based clean energy company plans, to become the leading syngas power generation company in Indonesia and South East Asia. It proposes to replicate Carbon Energy's Bloodwood Creek project, which it believes matches the requirements for its planned projects in Indonesia.
The term sheet outlines a two stage project with the initial design and construction of a single keyseam panel, followed by the development of additional panels sufficient to generate up to 30 MW in capacity.
Ascot Energy is responsible for securing permits and approvals for the project. The granting of these approvals will trigger the commencement of the legally binding licensing and service agreements between the parties in relation to the keyseam technology. Carbon Energy may provide paid services in order to assist Ascot Energy in securing necessary approvals.
Subject to the parties entering into the legally binding licensing and servicing agreements, Carbon Energy will receive the following revenue and royalties as set out in the Term Sheet:
Ascot Energy to pay a licence fee for each project of US$10 million in two tranches: US$4 million when funding is secured for the project and US$6 million on performance criteria being met in accordance with the licence and services agreements.
A royalty payment of production of US$0.30/million BTU of syngas.
Pre-project services fees.
It is estimated to take up to 18 months to secure permits and a further 18 months from then to achieve ignition of the first panel.
Executive Chairman, Chris Rawlings, said: "This agreement recognises that Carbon Energy's keyseam technology is the preferred way to grow UCG production in a safe and environmentally responsible way."
Ascot Energy, Managing Director Kevin Garner stated: "There is a clear need for an affordable alternative environmentally sound power source in Indonesia. The Indonesian government recognises the potential of in-situ coal gasification and continues to put in place the framework for project development; however there remains a knowledge gap relating to the technology and environmental management and compliance."
"In cooperating with Carbon Energy on a coal to syngas to power project, we believe there is an opportunity to bridge this gap. The success and experience gained at Bloodwood Creek project stands to benefit both local industry and the community," concluded Garner.
Edited from press release by Harleigh Hobbs
Read the article online at: https://www.worldcoal.com/power/23082016/carbon-energy-to-license-its-keyseam-technology-to-indonesian-power-project-2292/
You might also like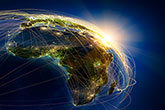 Contango Holdings Plc has advised that the production of washed coking coal has commenced at its flagship Lubu Coking Coal Project in Zimbabwe.