---
Negotiations between South African state-run utility Eskom and three trade unions over employee salaries and benefits were postponed until 27 June after parties failed to reach agreement.
21 June was the last day of a three day round of talks aimed at resolving an impasse between the utility and the National Union of Mineworkers, (NUM), the National Union of Metalworkers of South Africa (Numsa) and Solidarity.
"Parties did not reach agreement, but they made some progress," an Eskom spokeswoman revealed.
Eskom's initial proposal to freeze salaries this year triggered industrial action last week that interrupted coal deliveries to power plants and resulted in rolling load shedding for the first time since 2015.
On 19 June, Eskom responded to union demands by offering a pay increase of 4.7% for 2018 and a guaranteed inflation-based rise for every year thereafter for the next four years. South Africa's inflation rate currently stands at 4.4%. But other union demands for improved benefits – such as an increase in housing allowance, performance bonus and insourcing – remain unmet.
In response, the unions tabled their own counter-proposal on 20 June. But they declined to divulge any details because they did not want to risk jeopardising what they called a "delicate process".
Reportedly, Eskom was being pushed towards agreeing to a 9% increase. The unions previously demanded a 15% rise.
An Eskom spokesman previously suggested the utility might consider an increase of between 6 - 10%.
Eskom might need to re-implement load-shedding in the coming days. The utility said it will take around 10 days to fully restore the power system after last week's industrial action.
Read the article online at: https://www.worldcoal.com/power/22062018/eskom-postpones-employee-salary-talks/
You might also like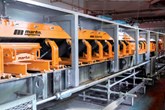 A global leader in bulk handling accessories and safety, Martin Engineering, is expanding its presence in the Asian Pacific market by opening a business unit in Malaysia.