---
Florida Power & Light Co. (FPL) plans to buy and phase out a 330 MW coal-fired power plant in Indiantown, Florida, the US – currently owned by Calypso Energy Holdings LLC.
The company has filed a petition with the Florida Public Service Commission (PSC) to request approval to purchase the coal plant, with which FPL has an existing long-term contract. If approved, the company expects to prevent over than 657 000 short tpy of carbon dioxide emissions.
In 1991, the PSC approved a long-term purchased power agreement (PPA) between FPL and the Indiantown Cogeneration LP facility, which does not expire until 2025. The contract was based on the cost of power at the time; however, today, FPL is able to generate electricity at a much lower cost. Additionally, despite the plant being well run, it emits high levels of carbon dioxide compared with FPL's current fleet.
Eric Silagy, president and CEO of FPL stated: "While many years ago it made sense to buy this plant's power to serve our customers, we're now able to purchase the facility and phase it out of service, preventing potentially harmful carbon emissions while saving our customers millions of dollars."
In the filing with the PSC, FPL proposes to purchase the ownership interest in the Indiantown Cogeneration facility for US$451 million (including existing debt), making FPL the owner of the facility. FPL is requesting PSC approval of the purchase by December 2016.
Upon gaining ownership of the 330 MW facility, FPL plans to immediately reduce the plant's operations so that it operates no more than about 5% of the time and intends to eventually phase the plant out of service.
Based on the company's current analysis of operational needs, FPL expects to operate the facility minimally through the end of 2018 as needed. After the expected addition of a new natural gas pipeline system into Florida in 2017 and with the high-efficiency natural gas-fired FPL Okeechobee Clean Energy Center entering service in 2019, FPL believes that the Indiantown Cogeneration plant will no longer be economic and plans to retire the facility years sooner than it otherwise would have been.
At this time, no decision on future use of the site has been made.
The buyout proposal is consistent with FPL's ongoing strategy of making investments to deliver affordable clean energy for its customers. Last year, FPL bought out its long-term contract with the Cedar Bay coal-fired power plant in Jacksonville.
Edited from press release by Harleigh Hobbs
Read the article online at: https://www.worldcoal.com/power/21062016/fpl-intends-to-buy-and-phase-out-another-coal-plant-995/
You might also like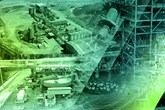 DRA Global has secured the contract for a major design package for Whitehaven Coal's Vickery Extension Project located in New South Wales, Australia.