---
A coal-fired power station is being built southwest of Ho Chi Minh City in Long Pu, Vietnam. The power station will be fueled using internationally sourced coal. Part of the process requires clamshell-type valves for the isolation of coal mill rejects, also known as 'pyrites'.
Pyrites refer to tramp material, which can include metal, rock, clay or other debris rejected at the coal pulveriser. Such materials are too hard to be pulverised and would put undue stress on equipment, if processed.
Clyde Bergemann was chosen to supply equipment for the collection, transportation and loading of the pyrites.
The mill reject handling system performs the following functions:
Collect rejected materials from the mill and transfer them to the pyrite hoppers.
Pneumatically convey rejected materials from the pyrite hoppers to the storage bunkers.
By means of silo top terminal boxes, deposit the rejected materials into the storage bunkers.
Unload the rejected materials from the storage bunkers into open trucks via the dual blade clamshell valves.
Each 45 m³ storage bunker required a manually operated dual blade clamshell valve at the bunker's outlet. The valves had to be designed to close through a moving head of material while being operated by only one person.
Vortex Global was consulted to subsequently design a special clamshell valve for this unique application. Each valve is pneumatically actuated by an air cylinder, and is programmed to fail close in the case of an upset condition. Each air cylinder features a mechanical adjustable stroke limiter that allows the valve opening to be restricted, in order to control material flow.
The valves are also designed with a blade overlap to better retain fine material.
The 400 mm dual blade clamshell valves weigh approximately 170 kg and are complete with square to round inlet transitions. To address the abrasive properties of pyrites, the valves are constructed from carbon steel with 400 BHN abrasion resistant liners and blades.
Read the article online at: https://www.worldcoal.com/power/20032018/vietnam-power-station-uses-clamshell-type-valves-for-pyrites-isolation/
You might also like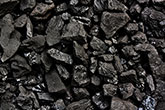 According to a recent release from Rystad Energy, global coal-fired power generation is on track to peak in 2023, as new sources of renewable and low-carbon energy expand rapidly.