---
India is the world's second most populous country and figures among the world's most rapidly growing economies, reports the World Coal Association.
The South Asian giant is home to one-fifth of the world's population and an additional 315 million people – almost the population of the United States today – are expected to live in India's cities by 2040.
Since 2010, the country's GDP has grown at an annual average of 6.8% and it is projected to surpass Germany at some stage in the 2020s to become the fourth largest in the world, and Japan sometime around 2040 to become the third.
Energy demand
India is the world's third largest energy consumer, after China and the US.
However, as the country goes through profound economic and societal transformations, such as economic and population growth, urbanisation and industrialisation, energy demand is expected to increase substantially.
As an example, the 'Make in India' campaign, which puts manufacturing at the heart of India's growth model, means that a large rise in energy will be needed to fuel India's development.
It is not a surprise then that the country's energy demand is projected to more than double through to 2040. By then, India's energy demand will be half that of China, up from less than 30% in 2017, and its share of global demand will rise to 11% from 5% in 2016.
Coal in the energy mix
With India's energy consumption growing by 4.6%/year, faster than any other major economy across the world, coal will be essential to help the country meet its future energy needs.
As reported by the 2018 International Energy Agency World Energy Outlook, coal is and will continue to be the country's largest source of energy, maintaining its historic and crucial role in fuelling developing economies and infrastructure.
Despite the significant growth of renewables, coal still accounts for the primary share of generation in India, supplying 74% of its electricity.
Yet, even as the Modi government strives to ensure universal electricity access by the early 2020s, India's power system will need to almost quadruple its size by 2040, and investments up to US$2 trillion will be required to keep pace with increasing demand.
Large-scale power generation will be at the heart of India's strategy to electrification, with coal-fired power output forecast to almost double by 2040. This means that while solar will support energy access in rural communities, coal will power up the growing cities, industries and businesses that are key to India's economic growth.
The outlook
Coal has allowed millions of people to gain access to energy and will continue to be essential to India's development and rapid urbanisation.
Looking ahead, with coal demand in the country predicted to rise by 120% through to 2040 (IEA), it is clear that it will remain a crucial part of India's future energy system, as well as acting as a critical enabler for electrification.
Read the article online at: https://www.worldcoal.com/power/20022019/the-role-of-coal-in-indias-energy-ambitions/
You might also like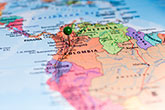 Benjamin Hill has entered into a nonbinding letter of intent with Aion to acquire interest in a Colombia coal project.