---
Mitsubishi Hitachi Power Systems has announced the opening of a new office in Warsaw, Poland, to strengthen its relationships with local customers and bolster orders for advanced coal-fired power generation systems and Air Quality Control Systems (AQCS).
The new branch office brings MHPS's corporate functions in Poland together in one location and will serve as MHPS's business development function for the country, with the goal of improving customer support and satisfaction.
The opening ceremony was attended by delegates from the Polish Ministry of Energy and Ambassador Shigeo Matsutomi of the Embassy of Japan in Poland, as well as guests from the energy sector. Also in attendance were MHPS President and CEO, Kenji Ando, MHPS Vice-President, Yasuo Fujitani, and CEO of MHPS Europe GmbH, Rainer Kiechl.
"Poland is one of the most dynamic markets for energy plant construction. With our know-how and technological market leadership, we hope to participate in this growth as a partner to our Polish customers and stakeholders," said Rainer Kiechl, CEO of MHPS Europe GmbH. "I am convinced that the Mitsubishi Hitachi Power Systems group has the best skills and the right expertise for this task."
Poland is a world leader in terms of coal resources, with approximately 90% of the country's electricity generated by coal-fired power stations. The Polish Government aims to revitalise the country's coal industry and strengthen its energy security. Efforts are underway to rationalise coal mines and introduce facilities that utilise sub-bituminous and brown coal (major elements of Poland's coal reserves) while promoting air quality control systems (AQCS) technology.
MHPS offers high-efficiency proprietary power generation technologies which utilise a variety of coals, and has an excellent track record delivering such facilities in Poland. It received orders to supply bituminous coal-fired power generation equipment (with a capacity of 1075 MW) for Unit 11 of the Kozienice thermal power plant, operated by Polish power company ENEA Wytwarzanie SA. The new unit is due to begin operations in December 2017. MHPS completed the delivery of an advanced flue gas denitration facility for Units 1 and 2 of the plant in 2016.
MHPS also received orders to supply lignite-fired power generation equipment for Unit 11 of the Turów thermal power station, operated by state power company PGK (Polska Grupa Energetyczna SA). Construction of the new unit is underway and operations are due to commence in 2020.
Read the article online at: https://www.worldcoal.com/power/18052017/mitsubishi-hitachi-power-systems-opens-new-warsaw-office/
You might also like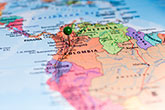 Benjamin Hill has entered into a nonbinding letter of intent with Aion to acquire interest in a Colombia coal project.