Duke Energy Progress files annual adjustments with NCUC for customers in North Carolina
Published by Stephanie Roker, Editor
World Coal,
---
Duke Energy Progress has made its annual filings with the North Carolina Utilities Commission (NCUC) for costs associated with fuel, compliance with the state's renewable energy portfolio standard (REPS), cost recovery under the Joint Agency Asset Rider (JAAR), and implementation of energy efficiency (EE) and demand-side management (DSM) programmes.
In its filing, Duke Energy Progress is proposing a decrease in monthly fuel costs as part of an annual adjustment of the actual cost of fuel used to power North Carolina homes and businesses through renewable, natural gas, nuclear and coal-fired generation. By law, the company makes no profit from the fuel component of rates.
The fuel rate is based on the projected cost of fuel used to provide electric service to the company's customers, plus a true-up of the prior year's projection. The NCUC is responsible for reviewing the actual fuel costs required to serve customers to ensure an accurate adjustment is made each year.
The percentage change on a typical bill would be an average decrease of 3.3% for residential customers, 4.4% for commercial customers and 1.9% for industrial customers. The total monthly impact of all rate changes for a typical residential customer using 1000 kWh/month would be a decrease of US$4, from US$120.95 to US$116.95.
The new fuel, REPS and JAAR rates would go into effect 1 December 2019, and the new EE and DSM rates would go into effect 1 January 2020.
Duke Energy Progress, a subsidiary of Duke Energy, owns nuclear, coal, natural gas, renewables and hydroelectric generation. That diverse fuel mix provides about 12 700 MW of owned electric capacity to approximately 1.6 million customers in a 32 000 mile2 service area of North Carolina and South Carolina.
Read the article online at: https://www.worldcoal.com/power/17062019/duke-energy-progress-files-annual-adjustments-with-ncuc-for-customers-in-north-carolina/
You might also like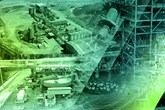 DRA Global has secured the contract for a major design package for Whitehaven Coal's Vickery Extension Project located in New South Wales, Australia.