---
GE Power has won equipment and services deals worth more than US$60 million to power and provide critical maintenance services for a period of 12 years for the 330 MW Thar Energy Limited (TEL) power plant in Pakistan. The collaboration further demonstrates GE's advanced technologies and reinforces its leadership as a trusted partner throughout the lifecycle of a power plant.
Khalid Mansoor, CEO HUBCO said: "We are committed to supporting Pakistan in achieving power self-sufficiency and our focus on using our country's own resources is testament to this. In driving the TEL project, we are using proven world-class technology by GE, which has demonstrated its long-term efficiency and reliability using similar fuels internationally. The inclusion of a multi-year services agreement furthers GE and Hubco's co-operation, and not only marks a new milestone in our long-lasting relationship but also in Pakistan's ambitions for a secure energy future."
The TEL Power Plant is owned by Thar Energy Limited – a consortium of the Hub Power Company Limited (Hubco), Fauji Fertilizer Limited (FFC) and China Machinery & Engineering Corporation (CMEC). The power plant will use Pakistani lignite coal from the local Thar Block II mine and supply power to the national grid under a 30 year power purchase agreement (PPA). The 330 MW TEL power plant is expected to commence commercial operations in March 2021, and once in operation will provide the equivalent electricity needed to supply up to 600 000 Pakistani households. TEL is a part of the larger 1320 MW (4x330 MW) Thar Block II integrated mining and power plant plan, which is also included in the China Pakistan Economic Corridor (CPEC) programme.
Hubco currently produces 1601 MW through three plants located at Hub, Narowal and Azad Jammu Kashmir. It is the only power producer in Pakistan that is executing three projects worth over US$3 billion, listed in the China Pakistan Economic Corridor (CPEC), namely the 1320 MW imported coal-based China Power Hub Generation Company (Private) Limited (CPHGC) at Hub, the 330 MW Thar lignite-based Thar Energy Limited (TEL) at Thar and the Sindh Engro Coal Mining Company Limited (SECMC) developing Block II of the Thar coalfield.
"The signature of these new agreements marks another milestone in our very strong partnership with Hubco to serve Pakistan's power generation sector better," said Michael Keroulle, CEO of GE's Steam Power business in the Middle East, North Africa, Pakistan and Turkey. "The TEL plant is using GE's advanced technology to generate power in an efficient way from Thar lignite, which is a challenging fuel, and these new agreements will allow us to support Hubco to operate the plants in the most reliable way. We thank Hubco for their trust in GE."
GE will provide its advanced circulating fluidised bed (CFB) boiler and its steam turbine generator technology for the TEL Power Plant. Thar lignite coal contains up to 50% moisture and low ash content, making it significantly challenging to burn reliably. GE's boiler technology has been a preferred technology-of-choice on Thar lignite fired power plants because of GE's successful track record burning similarly challenging fuels in Europe and North America. Pakistan has about 180 billion t of lignite reserves and GE's technology can help the country use this indigenous resource instead of importing more expensive fuels to increase energy independence and save foreign exchange reserves.
Under the multi-year agreement (MYA), GE will provide critical services to support maintenance outages, including the supply of spare parts, onsite inspections and advisory services for improved operations of both the boiler and steam turbine generator at the TEL power plant for 12 years. GE and Hub Power Services Limited (HPSL) – a wholly owned subsidiary of Hubco – also signed a broader Operations & Maintenance (O&M) Collaboration Agreement, where the two companies intend to explore opportunities to jointly provide O&M services to coal-fired power plants in Pakistan and the broader Middle East and North Africa region. The collaboration will bring together GE's experience in enhancing the availability and efficiency of critical power equipment with Hubco's experience in providing O&M skills for power plants.
Globally, GE's steam turbines equip up to 30% of coal-fired thermal power plants and 50% of the world's nuclear power plants. In Pakistan, GE has supported the development of energy infrastructure for more than 50 years. Today, GE-built technologies can generate the equivalent power needed to supply up to 30% of the country's electricity.
"Coal is a vital part of the energy mix in Pakistan. GE's technology for coal-fueled power plants is proven, reliable, affordable, and an industry leader in efficiency, leading to lower emissions. The TEL project will generate up to 330 MW to help the country bridge the gap between electricity demand and available supply, reiterating our commitment to support the development of Pakistan's power sector," said Sarim Sheikh, President & CEO of GE Pakistan and Central Asia.
Read the article online at: https://www.worldcoal.com/power/12112018/ge-wins-equipment-and-services-deals-for-tel-power-plant-in-pakistan/
You might also like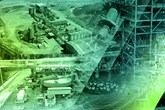 DRA Global has secured the contract for a major design package for Whitehaven Coal's Vickery Extension Project located in New South Wales, Australia.