---
A recent study, Paris Agreement climate proposals need a boost to keep warming well below 2°C, published in Nature has reported that the 2050 emission reduction target associated with the long-term climate goal of the Paris Agreement requires massive deployment of carbon capture and storage (CCS).
The study highlights the critical need for CCS to prevent huge volumes of carbon dioxide (CO2) emissions being released into the atmosphere from existing industrial and power generation sources.
According to the study, new CCS capacity would need to be installed on emission sources equivalent to around 85 GW of coal-fired power generation each year from 2030 to 2050, to reach a required annual capture target of approximately 10 gigatonnes of CO2 per year. This is about the same as the combined solar and wind generation capacity that is installed annually today.
The Chief Executive Officer of the Global CCS Institute, Brad Page, said the long-term disinclination to support CCS in comparison to renewable energy sources continues to limit the realistic ability of many nations to reduce their emissions consistent with limiting global warming to 'well below' 2°C.
"In order to meet these demanding climate targets, we've got to reduce emissions from every possible sector, and we've got to do it urgently and on a technology-neutral basis," said Page. "All low carbon technologies must be part of this global mitigation effort – including renewables, nuclear power, energy efficiency, and CCS."
He continued: "Globally, more than 2400 new coal-fired power stations are already planned for construction by the year 2030. Thousands more facilities are already operational … CCS is vital to limiting the emissions that are effectively already locked in by these facilities, but we have to overcome the policy inertia and reluctance to support CCS that is actively preventing investment in this vital technology. The entrenched policy disparity that has delivered more than US$800 billion in support to renewables over the past 10 years compared to less than US$20 billion for CCS over all time is the dominant driver of the very strong private sector investment in renewables compared to CCS. The simple fact is that we need both to meet climate targets."
"This policy disparity is costing the world valuable time to scale up a proven emissions reduction solution. It is essential that policy-makers consider CCS as an additional and complementary emissions reduction technology to renewables, and one that offers material-scale, cost-effective emission reductions within the timeframe needed to tackle climate change."
"Renewables alone cannot get us to the necessary emissions reduction targets within the necessary timeframe. Gas-fired power generation without CCS remains too carbon-intensive to be considered a realistic solution in its own right," Page concluded. "The urgency of CCS deployment is increasing every day. Strong, supportive policies are needed now to achieve the CCS deployment rate necessary between 2030 and 2050 to meet the targets described in the Paris Agreement."
Edited from press release by Harleigh Hobbs
Read the article online at: https://www.worldcoal.com/power/12072016/large-ccs-deployment-needed-to-meet-climate-goals-2009/
You might also like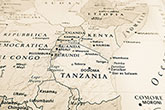 Edenville Energy Plc has provided an update on its Rukwa Coal Project in Tanzania.