---
Industry groups continue to react to the Supreme Court's decision to stay implementation of the Clean Power Plan in the US, while the regulation is reviewed by federal court.
"We are pleased the Supreme Court took this unprecedented step to protect the states from further economic harm while the courts are deciding whether the administration's Power Plan is unlawful and unconstitutional," said Mike Duncan, President and CEO of American Coalition for Clean Coal Electricity. "The stay is a signal the Supreme Court has serious concerns with the Power Plan. We're optimistic the Power Plan will ultimately be rejected."
Led by West Virginia's Attorney General, 29 states and state agencies had petitioned the Supreme Court to stop the US Environmental Protection Agency (EPA) from enforcing implementation of the rule before legal challenges had completed. States had been expected to submit their compliance plans in September – a deadline that is now likely to be moved back.
"This Supreme Court decision recognises the irreparable harm that would occur in the absence of such a decision," said the American Coal Council (ACC), who were among many to point to the enforced implementation of the EPA's mercury (MATS) regulations before judicial review of the rule had been completed. That rule was ultimately rejected by the Supreme Court but not before utilities had permanently retired a number of coal-fired power plants as part of compliance plans.
"The court's decision yesterday gives a clear indication – as it did with its June 2015 rejection of the EPA MATS rule – that the EPA has likely overstepped its legal authority and that the nation's most senior legal authorities have serious concerns with the rule," concluded the ACC. "Together with the earlier decision by the DC Circuit Court to grant an expedited hearing of the legal challenge of the merits of the case against the Clean Power Plan, the courts are appropriately responding to widespread concerns about the structure, timing, and costly impacts of this EPA rule."
Edited by Jonathan Rowland.
Read the article online at: https://www.worldcoal.com/power/12022016/more-industry-groups-react-to-cpp-ruling-2016-230/
You might also like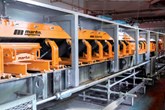 A global leader in bulk handling accessories and safety, Martin Engineering, is expanding its presence in the Asian Pacific market by opening a business unit in Malaysia.