Amec Foster Wheeler secures coal, gas and renewables framework with EDF Energy
Published by Harleigh Hobbs, Editor
World Coal,
---
Amec Foster Wheeler has secured a framework agreement to provide engineering consultancy services to EDF Energy's Coal, Gas and Renewables (CGR) division, to support its fleet of coal-fired plants, gas-fired (CCGT) power plant and gas storage sites.
The CGR framework has a broad spectrum, which covers operations and maintenance, outage support, technical services, plant modifications and enhancements, new build and decommissioning.
Under the agreement, the company will also support EDF Energy Renewables' UK wind farms.
Dawn James, Vice President for Generation Services at Amec Foster's Wheeler's Clean Energy business, said: "Our role is to deploy our technical capacity and capability to improve EDF Energy's operational and commercial performance at all levels and support its aims and objectives for safe, reliable operation."
James added: "This award enables us to build on the capability and services that we have brought to EDF Energy's nuclear fleet for many years. We aim to become a key partner to EDF Energy's coal, gas and renewables business by providing high quality, cost-effective solutions to their challenges."
Under the framework, Amec Foster Wheeler is one of two companies supporting EDF Energy at a strategic level under a Technical Support Alliance Agreement.
The technical programmes covered by the agreement include: pressure systems management; steam turbines and turbo alternator plant; electrical plant management; civil engineering requirements; gas turbine plant; control efficiency, performance and reliability management; gas storage and gas supply systems; wind turbines and wind farm management; and project management.
Amec Foster Wheeler has already secured work at three main sites of EDF Energy's Coal Gas and Renewables business while pursuing this framework position.
Read the article online at: https://www.worldcoal.com/power/08112016/amec-foster-wheeler-secures-coal-gas-and-renewables-framework-with-edf-energy/
You might also like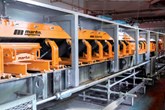 A global leader in bulk handling accessories and safety, Martin Engineering, is expanding its presence in the Asian Pacific market by opening a business unit in Malaysia.