---
Coal plays a "pivotal role" in a number of battleground states in the upcoming US Presidential Election, according to a new research paper from the American Coalition for Clean Coal Electricity (ACCCE).
According to the ACCCE, as of mid-July, there were 17 states that were considered close contests between the two candidates – Democrat Hilary Clinton and Republican Donald Trump. Of these, coal-fired power plays an important role in at least 13, including Pennsylvania, Michigan and North Carolina.
Collectively, these 13 states represent 149 electoral college votes – more than half of the 270 votes necessary to win the election.
"We want both candidate to understand the political importance of coal in this election," said ACCCE President and CEO, Mike Duncan. "Each candidate needs to explain how they will ensure an affordable and reliable supply of electricity that is essential to creating jobs and sustaining our manufacturing base in the US.
According to the ACCCE, 200 coal-fired generating units have already closed "because of current EPA policies", with another 46 expected to close in the new future. "If the next president adopts the wrong policies, the 370 000 jobs and US$90 billion in economic activity coal-fired electricity in these states will be threatened," said Duncan.
"Coal-fired power plants not only provide the dependable and reliable electricity our nation needs, but they support hundreds of thousands of families and their communities," concluded Duncan.
"It is imperative that Mr. Trump and Sec. Clinton work to protect these people and ensure we all have the affordable power needed to keep food on the table and the lights on."
Edited by Jonathan Rowland.
Read the article online at: https://www.worldcoal.com/power/08082016/coal-and-the-us-presidential-election-2016-2178/
You might also like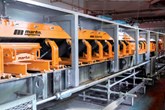 A global leader in bulk handling accessories and safety, Martin Engineering, is expanding its presence in the Asian Pacific market by opening a business unit in Malaysia.