---
Geological carbon dioxide (CO2) storage resources in North America are among the most thoroughly understood in the world, according to a new report launched by the Global CCS Institute.
The Global Storage Portfolio is the first report of its kind to provide a comprehensive worldwide summary of geological storage resource assessments from almost 50 countries. Nations identified as leading the way on storage readiness, include the US, Canada, Norway, and the UK.
"The identification and quantification of storage sites, both in North America and globally, is critical to the deployment of carbon capture and storage (CCS) as part of a worldwide effort to close the gap between current international climate commitments, and what scientists say is needed in order to limit global warming to well below 2°C", explained Jeff Erikson, the Institute's General Manager, The Americas.
The US and Canada are leaders in the development and deployment of CCS. They are not only major emitters of CO2, but also have a vast potential to store CO2. Carbon capture, utilisation and storage (CCUS) has been a driving force in advancing CCS in the US and Canada, particularly the utilisation of CO2 for enhanced oil recovery.
Availability of storage space for the injected CO2 is a critical precondition of a CCS project. Not knowing how much storage potential is available could significantly undermine a nation's ability to meet emissions reduction targets by hampering their ability to deploy CCS in a timely fashion.
The vast storage resources available to support CCS in the US and Canada exceed the projected capacity requirements over the coming decades, according to Global CCS Institute. For example, it is estimated that in the US alone, 1600 gigatonnes (Gt) of CO2 could be stored in deep saline formations, equivalent to about 300 years of current annual CO2 emissions in the US. "CCS is a vital technology for meeting the world's targets for mitigating global warming at least cost" said Erikson.
Regional resource assessments are important in providing policymakers and other stakeholders with an indication of the storage potential in any given location, and can serve as an important first step in selecting and proving storage sites to support project deployment.
Only proven storage scenarios are considered in the report, including deep saline formations, depleted or depleting oil and gas fields, and enhanced oil recovery using CO2. All three scenarios have been successfully utilised for existing CCS projects around the world.
Many countries use different evaluation criteria for their assessments and use different methods to calculate their storage resource. By consolidating this work, the Institute has been able to review and compare the results from regional studies for each country.
Edited from press release by Harleigh Hobbs
Read the article online at: https://www.worldcoal.com/power/08032016/us-and-canada-lead-world-in-co2-storage-resource-assessment-350/
You might also like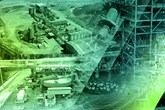 DRA Global has secured the contract for a major design package for Whitehaven Coal's Vickery Extension Project located in New South Wales, Australia.