---
Sokolovska Uhelna and GE have completed Europe's first GE 9EMax gas turbine upgrade at Sokolovska Uhelna's power plant in Vresova, Czech Republic.
Sokolovska's main products are electricity, heat, energy, coal and carbochemical products. The company extracts about 7 million tpy of lignite, out of which 50% is used for its own gasification process to produce syngas for IGCC to power its mining and industrial process as well as other power-gen customers in Europe.
"Our two existing GE 9E gas turbines were reaching the end of their lifetime, and we evaluated many different scenarios," said Mr. Homola, Production Director and Member of Board, Sokolovska Uhelna a.s. "We have worked with GE for more than 20 years, and we're confident in the technology and trust GE's expertise, so we turned to them to help us find the right solution. After examining both operating and capital expenditures, we determined GE's 9EMax upgrade was the best option for our plant to improve the 9E gas turbine's performance and flexibility as well as to lower the operation and maintenance costs for the upcoming life cycle period."
"Due to GE's extended scope capabilities and overall excellence in execution, the 9EMax upgrade of the first unit was smoothly completed and exceeded our expectations on performance," continued Homola. "In turn, this will allow us to be more competitive in the electricity and grid services segments in Europe.
9EMax—part of GE's Fleet360* platform of total plant solutions—was developed utilising GE's deep domain experience from its global fleet of more than 700 9E gas turbines and with insights from more than 30 million hours of operating data from its installed base. It delivers significantly more power, delivering incremental revenue generation, and has a higher efficiency, which equates to millions of dollars in fuel savings. Additionally, power producers can reduce operating costs with extended planned maintenance intervals.
"GE is excited to continue to work with Sokolovska to find the right solutions to meet their needs and to work with them on our first 9EMax upgrade in Europe," said Scott Strazik, CEO of GE Gas Power. "We know our total plant services solutions and technical expertise in combined-cycle power plants were essential to successfully modernising this very important plant in only 10 weeks, which was absolutely crucial for Sokolovska Uhelna."
As part of the project, GE also performed a complex rotor repair and fast stator rewind of two of its T240-370 generators to extend the equipment lifetime and improve the entire gas plant's performance and reliability. In addition, the upgraded unit was equipped by GE´s On-line Monitoring System and connected to GE´s Atlanta Monitoring & Diagnostics Center for 24/7 predictive maintenance support.
In detail, generator rotor repair and stator upgrades allowed:
An increase of output by implementing the latest stator bar technology and associated insulation material.
Improved stator robustness toward potential cyclic duty operation through an improved end winding support system and associated wedging.
Improved stator bar clamping and reduced risk of electrical sparking through latest rewind technology and installation processes.
Improved rotor reliability using latest insulation technology and rewind process.
9EMax solution
As part of GE's total plant solutions, the 9EMax delivers up to 37% efficiency and up to 145 MW of output in simple-cycle operation and up to 53.5% efficiency and up to 210 MW of output for combined-cycle operation. The 9EMax maintains the 9E gas turbine's proven reliability and enables up to 32 000 hours/900 start maintenance intervals.
Following GE's successful 9EMax upgrade of four gas turbines at TEPCO Fuel & Power's Yokohama power plant in Japan, GE has continued to provide its total plant solutions around the globe.
To date, GE has successfully installed five 9EMax upgrades. Each unit is operating commercially with two units exceeding 12 months of operation and a total of more than 30 000 operating hours. The 9EMax's 10% increase in output, up to 145 MW, and the 3.5% improvement in fuel efficiency provide a significant improvement over the current 9E fleet.
Read the article online at: https://www.worldcoal.com/power/07122018/sokolovska-uhelna-and-ge-complete-europes-first-9emax-gas-turbine-upgrade/
You might also like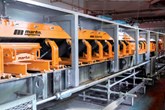 A global leader in bulk handling accessories and safety, Martin Engineering, is expanding its presence in the Asian Pacific market by opening a business unit in Malaysia.