---
The Palaszczuk Government's leadership, promoting overseas trade and an energy mix for stable local supplies and prices, would be strengthened if it also supported a high efficiency, low emission (HELE) coal-fired power plant in the State's north, Queensland Resources Council Chief Executive Ian Macfarlane said.
Addressing an energy forum in Brisbane on 2 May, Macfarlane said with its support for the expansion of renewables and the continued role for coal and gas-fired electricity, the Palaszczuk Government had positioned Queensland to benefit from a stable and broad energy mix.
"In terms of the continued role for coal, the Government needed to acknowledge that HELE plants are being built around the world, and particularly in our key export markets," he said.
Macfarlane said HELE plants were, in the words of the International Energy Agency, "key components in their energy mix to ensure energy security and reliability" for Queensland's top three overseas customers, China, Japan and India.
"If we ignore HELE plants as part of our energy mix, we ignore the actions of our top three trading partners and other countries around the world," he said.
Macfarlane said combined – China, Japan and India – accounted for AUS$40 billion, or almost 60%, of Queensland's export sales over the last 12 months.
"Representing Queensland as an export state in an export nation, the Government needs to acknowledge here are more than 1000 of these HELE units currently delivering reliable and affordable electricity around the world and more than 1200 planned, or under construction," he said.
"Queensland has substantial reserves of high quality, lower emission coal and it should take advantage of this resource to increase its international competitiveness and its trading position.
"The resources sector also accounts for more than half of Queensland's exports and so it's important for Queensland to closely monitor developments in our key markets and remain responsive to their needs."
The International Energy Agency's recent report on Australia's energy policy stated that: "in terms of technology choice and support, China, India and Japan promote cleaner HELE power plants as key components in their energy mix to ensure energy security and reliability."
Read the article online at: https://www.worldcoal.com/power/03052018/palaszczuk-governments-should-support-hele-coal-plant-says-qrc/
You might also like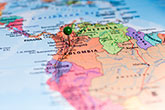 Benjamin Hill has entered into a nonbinding letter of intent with Aion to acquire interest in a Colombia coal project.