---
In DONG Energy's latest financial performance report for 2016, the company indicated it is continuing to move away from coal, with the construction of new offshore wind farms and the conversion of power plants into sustainable biomass.
DONG reported it has set a new target for the company to be coal-free by 2023.
The company's operating profit (EBITDA) from continuing operations rose by DKK 10.4 billion in 2016 to DKK 19.1 billion. Wind Power almost doubled its earnings with an increase in EBITDA of DKK 5.7 billion, driven by higher activity from the construction and divestment of offshore wind farms.
Operating profit (EBITDA) including Oil & Gas totalled DKK 25.6 billion in 2016, which was slightly higher than the most recent guidance of DKK 24 – 25 billion.
The company's investments for the year totalled DKK 15.0 billion. Most of the investments were made in the continued expansion of offshore wind.
Commenting on the annual report, Henrik Poulsen, CEO and President, said: "The results for 2016 are highly satisfactory. We have delivered an underlying growth of 95% in operating profit (EBITDA), driven by strong growth in Wind Power."
"In 2016, we took important steps in the green transformation with the decisions to invest in a further three offshore wind farms, including Hornsea 1, which will be the largest in the world. We also completed the biomass conversion of two Danish power stations and initiated the construction of the world's first commercial-scale REnescience plant in Northwich in the UK that converts unsorted household waste into green energy," Poulsen continued.
"We will continue the green transformation in 2017. We expect to complete the offshore wind farm Burbo Bank Extension, the bioconversion of Skærbæk Power Station and the Renescience plant in Northwich. And today, we have announced that we will completely phase out coal from our power and heat generation by 2023."
He concluded: "On the bottom line, we have delivered a strong profit from continuing operations of DKK 12.2 billion, which means that we can recommend to the annual general meeting that DKK 2.5 billion to be paid out in dividend."
Read the article online at: https://www.worldcoal.com/power/03022017/dong-energy-to-phase-out-coal-by-2023/
You might also like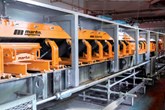 A global leader in bulk handling accessories and safety, Martin Engineering, is expanding its presence in the Asian Pacific market by opening a business unit in Malaysia.