Power - 01 May 2018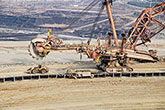 Eskom is currently in discussions with the Optimum coal mine's business rescue practitioners, but no agreement has been reached yet.
On 30 April 2018, Contura Energy and Alpha Resources signed a merger agreement enabling a strengthened US metallurgical coal platform.
Gippsland Tech School students have been coming up with ideas about how the Hazelwood coal mine should look after rehabilitation operations.