---
Looking back on MINExpo 2016, World Coal's December issue reviewed the latest earthmoving developments released at the Las Vegas Convention Center.
Combining rope shovel with hybrid excavator, Joy Global officially launched its new P&H 2650CX hybrid shovel at MINExpo 2016, after introducing the concept four years earlier at the 2012 show. According to the company, the new machine offers an alternative to the 550 – 700 t hydraulic excavator, while reducing total cost of ownership by 10 – 15%.
The savings result from the inclusion of the JOY SR hybrid drive system, which has been adopted from the P&H Generation 2 wheel loader. "Switched reluctance (SR) technology captures the energy naturally regenerated in swing deceleration and hoist lowering," the company explained. "The low-maintenance SR motors act like generators to capture and distribute energy back into the systems, powering the machine's main motions, which reduces the use of hydraulics and significantly decreases diesel fuel consumption."
The 59 short t payload offers a four-pass match with 220 short t haul trucks and can accommodate trucks ranging from 135 short t to 360 short t. The pilot machine is currently operating at the ASARCO Mission copper mine in Arizona, US.
Staying with shovels, Caterpillar launched its LatchFree Dipper System and Operator Assist – Enhanced Motion Control system at the show. The LatchFree Dipper System aims to reduce shovel downtime by eliminating one of the most common causes of rope shovel downtime: the latch assembly. Instead, the LatchFree Dipper System comprises a durable steel link assembly mounted to the dipper back. It is currently available for Cat electric rope shovels with dipper capacities as large as 49 m3.
According to the company, the system has already proved its performance on a Cat 7495 HF loading Cat 797 trucks in the challenging oil sands of Alberta, Canada, but would also be cost effective in coal applications running big Cat shovels – such as those in the Power River Basin in the US.
Meanwhile, Operator Assist – Enhanced Motion Control, which is standard on new 7495 Series shovels and available for certain existing Cat 7495 and Bucyrus 495 shovels, is designed to simplify machine operations, allowing the shovel to be "operated in a manner that both promotes high production and protects the machine from inadvertent misuse," Caterpillar said. This includes the following features:
Hoist stall prevention.
Book jack prevention.
Crowd impact prevention.
Crowd over-speed prevention.
In-bank swing prevention.
The Operator Assist – Enhanced Motion Control system is available for three 7495 machine classes: 7495 (ER601143 and up); 7495 HF (ER801136 and up); and 7495 HD (ER701167 and up). The control system software update typically requires two hours.
BMT WBM announced the development of the PULSETerraMatrixRS (PTMRS) system at MINExpo 2016. This provides a real-time dipper payload estimate during swing cycles before dumping, using a smart loadcell sensing device, which directly measures the inertial and dynamic loads applied to the dipper and the payload. "As a result, high-fidelity payload measurement is maintained, even under severe dynamic loading conditions," explained Charles Constancon, Director of BMT WBM Canada.
The PTMRS is configured to communicate with any third-party truck dispatch system and can be applied to both P&H and Caterpillar rope shovels.
Beyond shovels, Liebherr presented its new R 9200 mining excavator in Las Vegas – its first introduction to the American market following its launch at bauma 2016 in Munich, Germany, earlier this year. With 14 already sold since the launch (including one to a coal mine in Indonesia), the new entry into the 200 t excavator class offers the largest bucket in its class (12.5 m3), as well as sustainable performance while delivering peak burn efficiency, the company said. The R 200 is designed to match trucks of payloads up to 140 t and is available in both backhoe and face shovel configuration.
Columbia Steel introduced its EZ Riglock hammerless pin system for dragline rigging at MINExpo 2016, offering greater safety and efficiency than traditional systems. The EZ Riglok is made with Columbia's H-Series alloy, offering high tensile strength and toughness and providing good resistance to abrasion and impact. The system can be retrofitted to existing rigging or integrally cast into new equipment.
Komatsu meanwhile previewed its new D375Ai-8 dozer in Las Vegas, featuring more production and faster cycle times, including 20% more horsepower in reverse than the previous model, as well as intelligent machine control and structural enhancements for increased durability of mainframe and track frame. The D375Ai-8 also features improved undercarriage, cab mounts and seat, for overall operator comfort, the company said, with a remote-control machine option for difficult applications coming to market in 2017.
MINExpo 2016 also marked the commercial release of the PC4000-11 hydraulic mining shovel in North America. Best suited to pair with 150 – 240 short t trucks, the PC4000-11 is powered by a Tier 4 Final 1875 hp. SDA16V160E-3 Komatsu engine and is available in both shovel or backhoe configuration.
Moving to more continuous mining methods, thyssenkrupp Industrial Solutions presented its next generation of compact bucket wheel excavators at the show: the Barracuda and the Mine Shark. With throughputs of over 3000 tph, these have the ability to work in harder materials than traditional bucket wheel excavators, including hard coal, limestone, phosphate rock and potash, as well as in frozen ground conditions. Visitors to the thyssenkrupp stand could experience a virtual reality simulation of both the Barracuda and Mine Shark.
Read the article online at: https://www.worldcoal.com/mining/28122016/minexpo-2016-review-earthmoving/
You might also like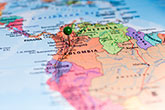 Benjamin Hill has entered into a nonbinding letter of intent with Aion to acquire interest in a Colombia coal project.