EIA: over 40% of US coal is supplied by 16 Powder River Basin mines
Published by Claire Cuddihy, Assistant Editor
World Coal,
---
More than 40% of coal produced in the US comes from 16 mines in the Powder River Basin (PRB), a mining region primarily located in northeast Wyoming and southeast Montana. Four companies collectively own more than half of those PRB mines, and those 10 mines produced 87% of the Basin's coal in 2018. Two of those companies, Cloud Peak and Blackjewel, filed bankruptcy this year. The two other companies, Peabody and Arch Coal, are proposing a joint venture that involves some of the PRB mines.
Most of the coal produced in the PRB supports electric power generation in the United States. Starting in the 1990s, many coal-fired power plants switched to subbituminous coal from the PRB – which has relatively low sulfur content – to meet tightening Clean Air Act emission standards. By 2003, the Powder River Basin yielded more coal than the Appalachian coal basins in the eastern United States.
Both US total coal production and PRB coal production peaked in 2008 and have since declined. PRB coal production reached a high of 496 million short t in 2008 and fell to 314 million short t in 2016 but has since increased slightly to 324 million short t in 2018.
Coal use in the US electric power sector has decreased as overall electricity demand has remained relatively flat and other fuels – particularly natural gas and renewables – have gained market share. Coal's share of the US electricity generation mix was 48% in 2008 and has since fallen to 28% in 2018. The U.S. Energy Information Administration's (EIA) Short-Term Energy Outlook expects coal's share of power generation to be 24% in both 2019 and 2020. EIA forecasts that coal production in the Western region, which includes PRB coal as well as coal production in the Rocky Mountains, will decline by 12% in 2019.
Declines in domestic coal consumption had been partially offset by rising demand for coal in export markets. Although most US coal exports are bituminous coal (used for steelmaking), the United States has exported growing volumes of subbituminous coal from PRB mines to Asian countries for coal-fired power plants. However, these volumes are relatively small – the United States exported 7.7 million short t of subbituminous coal in 2018, accounting for 7% of total US coal exports and 2% of total PRB coal production.
Coal mines in the PRB are only using about two-thirds of their productive capacity. Productive capacity refers to the amount of coal that mines could produce each year with their existing equipment. PRB coal productive capacity peaked in 2010 at 575 million short t and has since declined to 476 million short t in 2018.
Prices for PRB coal have exhibited little volatility in the past decade. In 2008, the average annual selling price for PRB coal with a heating value of 8800 British thermal units per pound was US$13.31/short t, compared with US$12.31/short t in 2018. Transportation rates to deliver coal from PRB mines to power plants, mostly by railroad, now account for nearly two-thirds of the total delivered cost of the coal, compared with 56% in 2008.
Read the article online at: https://www.worldcoal.com/mining/27082019/eia-over-40-of-us-coal-is-supplied-by-16-powder-river-basin-mines/
You might also like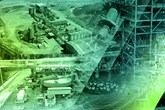 DRA Global has secured the contract for a major design package for Whitehaven Coal's Vickery Extension Project located in New South Wales, Australia.