---
Taking place every four years, MINExpo International is well known as the largest mining trade show in the world. And 2016's show did not disappoint with 840 000 ft2 of exhibition space and 1953 exhibitors. In World Coal's December, the team reviewed the highlights from the Las Vegas Convention Center.
A focus on drilling
A number of the major equipment suppliers featured new blasthole drills at the show, as well as various technology and autonomy options.
In the North Hall of the convention centre, Atlas Copco featured the fully-autonomous and cab-less Pit Viper 275 CA (PV-275 CA). Replacing cab with a terminal with a Rig Control System (RCS) display, controls, stool and table, the Pit Viper 275 was built as a concept specifically for MINExpo 2016. But the drill is fully operational, according to Atlas Copco, using technology that the company has proven over many years on its semi- and fully-autonomous drills.
"Semi and fully autonomous drills with the operator sitting remotely tend to have higher utilisation than machines with operators in the cab," the company said, explaining the rationale behind the PV-275 CA. "Seeing this, many customers have asked if a cab is necessary with an autonomous drill. As the Atlas Copco autonomous technology continues to demonstrate success and reliability, the question becomes more relevant with the cab being used less."
Atlas Copco also launched its latest model Pit Viper, the Pit Viper 231 (PV-231). Marking the fifth consecutive show at which a new Pit Viper has been debuted, the PV-231 builds on the PV-235 to expand Atlas Copco's single-pass offering. The new drill features a 16.2 m clean hole single-pass tower on a mainframe capable of drilling a hole between 171 and 250 mm.
On the technology side, Atlas Copco showed its Pit Viper BenchREMOTE system, highlighting the versatility and adaptability of the system when used in conjunction with Pit Viper drills. Already proven in the field, including at a Wyoming coal mine, where it allowed operation of a PV-275 from up to a kilometre away, the system enables remote operation and has achieved utilisation benefits of up to 10%, according to the company.
In the Central Hall, Caterpillar featured its MD6420C rotary blasthole drill, Joy Global introduced its P&H 77XD blasthole drill and Sandvik released a trailor-mounted teleremote station for the operation of its DR461i rotary blasthole drill.
The Caterpillar MD6420C drill – the first in the company's C series – is built to deliver high production at the lowest total cost in hard- and soft-rock applications, the company said. With a bit load force of up to 42 000 kg (92 594 lb) and the ability to drill holes up to 311 mm (12 25 in.) in diameter and down to 74.3 m (244 ft) deep, the new drill is designed for high-volume production. Its application-matched power train, control systems, optional automation features, rugged structures and serviceable design make it an efficient, economical drill for mining applications.
Caterpillar's MineStar Terrain for Drilling can also be added to the MD6420C. Terrain is a scalable system that optimises drilling efficiency and allows remote, real-time monitoring of drilling activity and blast planning. The system guides the operator, improves accuracy of hole placement and drilling depth, reports on drill and operator productivity and delivers feedback on variations to the bench geology. To accommodate customers whose longer term plans call for even more automation, the C Series platform provides a solid foundation for future semi-autonomous and autonomous drilling capabilities.
The P&H 77XD blasthole drill from Joy Global is the first of the company's next generation P&H drills and was designed to deliver up to 10% maintenance and repair cost advantage and up to 5% availability advantage, the company said in a press release. The drill's name reflects its 77 000 lb maximum bit loading capacity; other features include a solid boxer-style mast construction with rack-and-pinion pull down, automatic bit and pipe handling functions, and intelligent compressor controls to manage power consumption and associated bailing velocity.
Sandvik's AutoMine Surface Drilling for rotary drills is the latest addition to the Swedish company's automation product line and enables remote operation of the DR461i rotary blasthole drill from a trailor-mounted teleremote station. The system can communicate via line of sight, direct to the drill or via the mine communication network. The command centre can accommodate up to three drills per station, allowing one operator to start one hole, initiate the next drill to start another hole and then a third – ensuring that all units keep drilling with minimal delay, optimising mine productivity.
"Field testing revealed improved drilling performance and a better working environment for the operator," said Tab Siegrist, Product Line Manager, Surface Drills, Sandvik Mining and Rock Technology. "Night operation, using remote cameras and an LED lighting package, also helps to keep productivity high. Getting the operator away from the cab can also be beneficial from a safety perspective, due to unknown underground voids, highwall condition or other geotechnical concerns."
Read the article online at: https://www.worldcoal.com/mining/26122016/minexpo-2016-review-drilling/
You might also like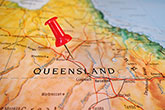 CIMIC Group's minerals processing company, Sedgman, has secured an operations and maintenance contract in the Bowen Basin, Queensland, from Pembroke Resources.