---
South32 reported in its financial release for the financial year ended 30 June 2016 (FY16), South Africa thermal coal saleable production decreased by 2.6 million t (8%) to 31.7 million t in FY16. Lower production resulted from the planned closure of the opencast mine at Khutala and a reduction in contractor activity at the Wolvekrans Middelburg complex, consistent with our focus on value over volume.
Total coal production guidance for FY17 is maintained at approximately 30.9 million t, with a higher proportion of domestic sales. In FY18, a small decrease in production is expected to 29.8 million t.
The Klipspruit Life Extension project proceeded into the feasibility study stage in FY16, where the viability of a lower capital cost development option is being assessed. In addition, the company continue to work with Eskom under the existing (cost plus) coal sales agreement to progress a lower capital cost option to extend the life of the Khutala underground mine.
Operating unit costs decreased by 13% to US$26/t in FY16 due to a stronger US dollar and a significant improvement in labour productivity. In this context, the insourcing of activity underpinned a 38% reduction in contractor numbers when compared with the average headcount in FY15, while employee numbers were also reduced by 14%.
Operating unit costs, including sustaining capital expenditure, are expected to decline only marginally to US$26/t in FY17 (FY16: US$27/t) despite the assumed weakening of the South African Rand given the relatively high proportion of fixed costs and lower production. In this context, sustaining capital expenditure of US$72 million is planned.
Underlying EBIT remained largely unchanged in FY16 at US$95 million. A reduction in contractor and labour costs increased Underlying EBIT by US$66 million while a stronger US dollar delivered a further US$112 million net benefit. Non-cash charges declined by US$95 million as depreciation and amortisation was rebased following the recognition of impairments in FY15 and the December 2015 half year. In contrast, lower realised prices reduced Underlying EBIT by US$117M, net of price-linked costs.
Capital expenditure decreased by 36% to US$63 million in FY16 following the purchase of mobile equipment in the prior period.
Pre-tax restructuring costs, including redundancies, of approximately US$15M were incurred in FY16 and have been excluded from the Group's Underlying earnings measures.
Edited from press release by Harleigh Hobbs
Read the article online at: https://www.worldcoal.com/mining/26082016/south32-thermal-coal-production-declines-in-fy16-2323/
You might also like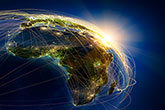 Contango Holdings Plc has advised that the production of washed coking coal has commenced at its flagship Lubu Coking Coal Project in Zimbabwe.