---
On Wednesday 24 October, approximately 20 000 German miners took part in protests demanding protection for their jobs. The demonstration follows the nation's coal commission drawing up plans to phase out all coal-fired power plants.
According to one source, a timetable for the phase-out and the implementation of federal assistance estimated at approximately €1.5 billion (US$1.3 billion) for the affected regions is planned to be published by the end of the year.
This announcement has come to the delight of environmentalists but trade unions have shown some concern that this move could put thousands of jobs at risk by rushing the withdrawal from coal-fired power.
Marching under banners stating "Without good work, no good climate! We are speaking out for our jobs," huge numbers of workers took to the streets to take part in demonstrations organised by the IG BCE and Verdi trade unions in Bergheim near Cologne.
One man at the demonstration in Bernheim said: "We hope that they are also thinking about the employees and that [the plans are] evaluated in a realistic way. Coal alone is not the evil-doer. Coal is part of the problem but it's not the only thing."
The government is expected to pump around €1.5 billion of federal assistance into affected regions but workers are not convinced.
More protests are scheduled around the country for later this week.
Read the article online at: https://www.worldcoal.com/mining/25102018/thousands-protest-against-coal-phase-out-in-germany/
You might also like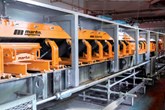 A global leader in bulk handling accessories and safety, Martin Engineering, is expanding its presence in the Asian Pacific market by opening a business unit in Malaysia.